Three Men in a Boat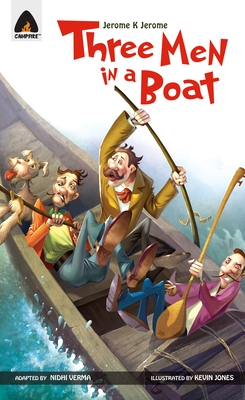 Three Men in a Boat
Campfire, Paperback, 9789380741079, 68pp.
Publication Date: September 20, 2011
* Individual store prices may vary.
Not Currently Available for Direct Purchase
or
Shop Local
Enter your zip code below to purchase from an indie close to you.
Description
One of the best-loved classics of all time, Three Men in a Boat is a hilarious account of three friends and their dog on a holiday trip on the Thames in England. Harris, George, Jerome (the narrator), and Montmorency (the fox terrier) decide to take a break from their tedious routine, to restore their 'mental equilibrium'. And so they take a trip on the Thames between Kingston and Oxford, making certain stops at interesting places, camping out, and inadvertently landing up in
comical muddles and misadventures.
Originally planned as a travelogue, this book turned into a literary classic, thanks to the narrator's humorous digressions, segueing into the historical background of some places. It is sprinkled with his own musings as they cross Hampton Court Palace, Monkey Island, Magna Carta Island, Marlow, little villages, and other known landmarks on the way.
The three men in the novel are based on real-life characters: Jerome himself, and his two friends, George Wingrave and Carl Hentschel.
About the Author
Jerome Klapka Jerome (2 May 1859 - 14 June 1927) was an English writer and humorist, best known for the comic travelogue Three Men in a Boat (1889). Other works include the essay collections Idle Thoughts of an Idle Fellow (1886) and Second Thoughts of an Idle Fellow; Three Men on the Bummel, a sequel to Three Men in a Boat; and several other novels. Jerome was born in Caldmore, Walsall, England. He was the fourth child of Marguerite Jones and Jerome Clapp (who later renamed himself Jerome Clapp Jerome), an ironmonger and lay preacher who dabbled in architecture. He had two sisters, Paulina and Blandina, and one brother, Milton, who died at an early age. Jerome was registered, like his father's amended name, as Jerome Clapp Jerome, and the Klapka appears to be a later variation (after the exiled Hungarian general Gyorgy Klapka). Owing to bad investments in the local mining industry, the family fell into poverty and debt collectors visited often, an experience Jerome described vividly in his autobiography My Life and Times (1926). The young Jerome attended St Marylebone Grammar School. He wished to go into politics or be a man of letters, but the death of his father when the younger Jerome was age 13 and of his mother when he was age 15 forced him to quit his studies and find work to support himself. He was employed at the London and North Western Railway, initially collecting coal that fell along the railway, and remained there for four years. In 1877, inspired by his older sister Blandina's love for the theatre, Jerome decided to try his hand at acting, under the stage name Harold Crichton. He joined a repertory troupe that produced plays on a shoestring budget, often drawing on the actors' own meagre resources - Jerome was penniless at the time - to purchase costumes and props. After three years on the road with no evident success, the 21-year-old Jerome decided he had had enough of stage life and sought other occupations. He tried to become a journalist, writing essays, satires and short stories, but most of these were rejected. Over the next few years he was a school teacher, a packer, and a solicitor's clerk. Finally, in 1885, he had some success with On the Stage - and Off, a comic memoir of his experiences with the acting troupe, followed by Idle Thoughts of an Idle Fellow, a collection of humorous essays which had previously appeared in the newly founded magazine, Home Chimes, the same magazine that would later serialise Three Men in a Boat.




Praise For Three Men in a Boat…
"I highly recommend Campfire's comics. They do what they are intended to do and do it in  a way that excites kids about classic literature."

— Chris Wilson, The Graphic Classroom (a resource for teachers and librarians)