Light of Wisdom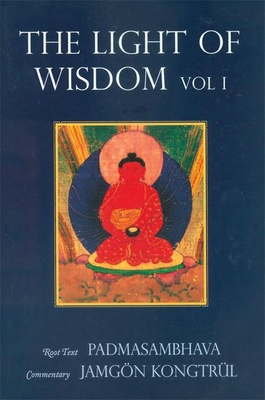 Light of Wisdom
Rangjung Yeshe Publications, Paperback, 9789627341376, 322pp.
Publication Date: May 18, 2004
* Individual store prices may vary.
Buy at Local Store
Enter your zip code below to purchase from an indie close to you.
or
Buy Here
Description
The Light of Wisdom Vol. I contains the root terma ---hidden treasure text --- of Padmasambhava, The Gradual Path of the Wisdom Essence and its commentary The Light of Wisdom by Jamgon Kongtrul the Great. Annotations on the commentary Entering the Path of Wisdom spoken by Jamyang Drakpa and recorded by Jokyab Rinpoche are included as well as clarifications from other masters.
Volume I presents in-depth explanations of the Vajrajana Buddhist perspective. It begins with the nature of the ground, the buddha nature present in all beings, continues with the teachings that are common to all vehicles, and concludes with the Mahayana and the link to Vajrayana.
This essence of the causal and resultant vehicles,
Especially the core of the realization the three sections of the inner tantras,
Linking together the ground with the path,
Makes you abandon the temporary defilements along with their tendencies,
Realize fruition and quickly accomplish the welfare of self and others,
In this way it is in conformity with each yet exalted above them all.
-Padmasambhava
The root text of Lamrim Yeshe Nyingpo, a terma revealed by the great treasure- finder Chokgyur Lingpa, and its commentary by Kongtrul Rinpoche, the great translator in person, form together a complete scripture that embodies all the tantras, statements and instructions of the Nyingma School of the early translations, which is most rare to find in the past, present, or future.
-Kyabje Dilgo Kyentse Rinpoche

About the Author
Rosemary Brant is an editor. Amitov Katz is an expert in Asian cultures. K. D. Samdupe is an anthropologist specializing in Tibetan culture.


Jamgon Kongtrul Lodro Thaye, (1813-99) was the leading figure in the nineteenth-century "rime" (nonsectarian) revival of Tibetan Buddhism. One of the most prolific and accomplished teachers and writers in Tibetan history, his works continue to guide and inspire students and practitioners alike.
Praise For Light of Wisdom…
"The root text of Lamrim Yeshe Nyingpo, a terma revealed by the great treasure-finder Chokgyur Lingpa, and its commentary by Kongtrül Rinpoche, the great translator in person, form tohether a complete scripture that embodies all the tantras, statements and instructions of the Nyingma School of the early translations, which is most rare to find in the past, present, or future."
- Kyabje Dilgo Kyentse Rinpoche