Repeating the Words of the Buddha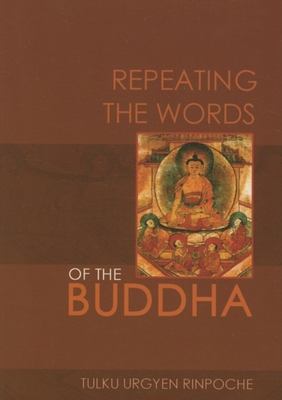 Repeating the Words of the Buddha
Rangjung Yeshe Publications, Paperback, 9789627341598, 164pp.
Publication Date: August 1, 2006
* Individual store prices may vary.
Buy at Local Store
Enter your zip code below to purchase from an indie close to you.
or
Not Currently Available for Direct Purchase
Description
Tulku Urgyen Rinpoche spent many years in retreat, assimilating the teachings within his experience. He spoke with humor and true understanding, expressing plainly and simply what he himself had undergone. Consequently, his teachings are uniquely accessible, with a powerfully beneficial impact on those who hear or read his words. This book, a selection of his oral and written teachings, spells out the essential points of spiritual practice and leads readers along the same path they would follow in the presence of a master. Through direct, pithy instructions, students are encouraged to question the master repeatedly, while at the same time processing their own experiences. Representing the heart of Rinpoche's teachings, "Repeating the Words of the Buddha" shows that the enlightened essence is present within the mind of any sentient being, and that it can be recognized by all who seek it.
About the Author
Tulku Urgyen Rinpoche

Contributor residences (city, state or country if outside the US or Canada):

Tulku Urgyen Rinpoche, a Dzogchen master who achieved the highest realization, is deceased. Tulku Urgyen Rinpoche was among Tibetan Buddhism s greatest masters of the 20th century. In 1980, when he first came to the West, he was among the first Tibetan masters to teach the most essential instructions of Dzogchen beyond Tibet. From that time until his death he gave vital oral instructions to thousands of Buddhist students from the world over. His writings provide a glimpse into the influences and experiences that shaped the man whose simplicity and humility attracted an immense cross-section of humanity.

Repeating the Words of the Buddha is translated, edited and compiled by Erik Pema Kunsang and Marcia Binder Schmidt.

Erik Hein Schmidt (also known under his pen name Erik Pema Kunsang) was the main interpreter of Tulku Urgyen for 17 years. With his wife, Marcia Binder Schmidt, he has lived in Tulku Urgyen s monasteriesone in Katmandu s Little Tibet, near the great Boudhanath Stupa, the other his mountainside hermitage overlooking the Kathmandu Valley.

Although Danish was his first language, Erik is known as one of the world s most gifted interpreters of Tibetan into English, . Traveling to Nepal from his native Denmark at the age of 20, he has studied with or translated for more than 60 Tibetan masters. He is the compiler of a voluminous 3,000-page Tibetan dictionary for spiritual terms (The Rangjung Yeshe Tibetan-English Dictionary of Buddhist Culture), used by other Tibetan translators as an authoritative reference and now available online at www.dharmadictionary.net

He has also translated 46 books, six published with Shambhala Publications (the latest is A Tibetan Buddhist Companion, 2003); though the translations largely appeal to those with specialized interests in Tibetan Buddhism, total sales surpass 200,000 copies. There is an active international market for these books; subrights have been sold in the following languages: Czech, Chinese (Taiwan), Danish, Dutch, French, German, Italian, Nepalese, Polish, Portuguese, Russian, Slovakian and Spanish.

In 1981 Erik Pema Kunsang and Marcia Binder Schmidt, under the guidance of Tulku Urgyen and Chokyi Nyima Rinpoches, established Rangjung Yeshe Institute, which is dedicated to offering educational and spiritual support for practitioners of Tibetan Buddhism. Since its inception Rangjung Yeshe Institute has held seminars and retreats around the world for thousands of students. In 1986 as an offshoot of this Institute, Erik and Marcia created Rangjung Yeshe Publications. They have translated and produced over forty titles, seven of which Shambhala Publications has handled. (See the attached book list)

Excerpts from and reviews of Rangjung Yeshe books have been featured in magazines such as Shambhala Sun, Buddha-dharma and Tricycle.

Other branches of Rangjung Yeshe Institute include twenty-two years of Saturday talks with Chokyi Nyima Rinpoche at his monastery, Ka-Nying Shedrub Ling, in Boudhanath. And in 1997, as a way to expand the scope of Rangjung Yeshe Institute and include a more scholastic approach, Erik and Marcia helped found an institute of Buddhist Studies, which offers a B. A. degree in language and philosophy. They have also helped to develop retreat centers and study groups all over the world. They are on the Board of the Chokling Tersar Foundation, Leggett, California, USA, and Erik is on the Board of Rangjung Yeshe Fonden, DK.

Marcia Binder Schmidt compiled The Dzogchen Primer for Shambhala in 2002, and Dzogchen Essentials in 2004. Her most recent book is Blazing Splendor

Chokyi Nyima Rinpoche, foreword.

Chokyi Nyima Rinpoche is the oldest son and a spiritual heir of the widely renowned late Dzogchen master Tulku Urgyen Rinpoche. He is the author of Indisputable Truth, Bardo Guidebook, Present Fresh Wakefulness and Union of Mahamudra and Dzogchen, Rangjung Yeshe Publications. His Holiness the 16th Karmapa recognized Chokyi Nyima as a reincarnate bodhisattva and advised him to turn his efforts toward instructing Western practitioners, transmitting Tibetan Buddhism to the rest of the world. He is the abbot of one of the largest Buddhist monasteries in Nepal, located at the sacred Boudhanath Stupa in Kathmandu. (www.shedrub.org)"