Freedom in Bondage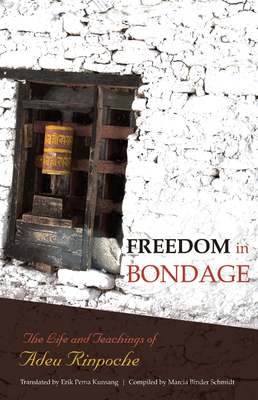 Freedom in Bondage
The Life and Teachings of Adeu Rinpoche
North Atlantic Books, Paperback, 9789627341666, 166pp.
Publication Date: September 8, 2011
* Individual store prices may vary.
Buy at Local Store
Enter your zip code below to purchase from an indie close to you.
or
Buy Here
Description
Adeu Rinpoche's story is not about the horrors he endured under the Communist takeover of Tibet--he himself notes that many other people underwent much worse hardships, not to mention all those that died--but rather the way in which he told his tale. While describing what happened to him and many others, how he survived and finally his release from prison he spoke in a straightforward, dignified manner without any resentment, anger or sadness. He never added mental anguish on top of an already untenable experience. He viewed what happened to him as a ripening of his own individual karma, he accepted responsibility for the abuse he suffered; in fact, he repeatedly stated that each person suffered according to their own karma, as he said, "I felt that whatever befalls you is a ripening of the specific karma that you created in the past."
Adeu Rinpoche took the trauma and suffering as an opportunity not only to accept the vicissitudes of life without bitterness but also to transcend the unjust treatment by not harboring ill-will against the perpetrators, instead developing compassion for them. In the end he turned suffering into happiness, for even while imprisoned he was able to meet many great masters, receive teachings from them and even do some serious practice. It is truly inspiring that people exist in our world with such profound realization and accomplishment--they are examples to us all.
This tale together with wonderful teachings presents a compassionate and wise face to the hardship Adeu Rinpoche and so many others endured and triumphed over. It is a banquet of realization, pith instructions and dignity.

About the Author


Marcia Binder Schmidt has been an editor and publisher of books on Vajrayana Buddhism for over fifteen years. With her husband, author and translator Erik Pema Kungsang, she founded and currently runs Rangjung Yeshe Publications, an independent publisher of Buddhist texts in English.

Tulku Urgyen Rinpoche (1921--1996) was widely acknowledged as one of the great meditation masters of modern times. Erik Pema Kunsang and Marcia Schmidt, founders of Rangjung Publications, live in Kathmandu, Nepal, and Albion, CA.