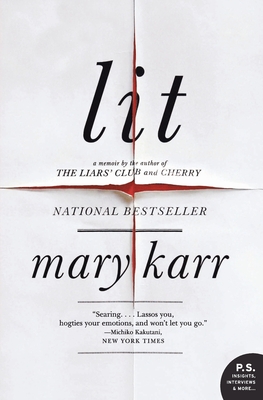 Lit
A Memoir
Paperback

* Individual store prices may vary.
Other Editions of This Title:
Digital Audiobook (1/25/2010)
Paperback, Large Print (11/3/2009)
Compact Disc (1/27/2010)
Description
A BEST BOOK OF THE YEAR
New York Times Book Review • The New Yorker • Entertainment Weekly • Time • Washington Post • San Francisco Chronicle • Chicago Tribune • Christian Science Monitor • Slate • St. Louise Post-Dispatch • Cleveland Plain Dealer • Seattle Times • NBCC Award Finalist
Mary Karr's unforgettable sequel to her beloved and bestselling memoirs The Liars' Club and Cherry "lassos you, hogties your emotions and won't let you go" (Michiko Kakutani, New York Times).
Lit is about getting drunk and getting sober; becoming a mother by letting go of a mother; learning to write by learning to live. Written with Karr's relentless honesty, unflinching self-scrutiny, and irreverent, lacerating humor, it is a truly electrifying story of how to grow up—as only Mary Karr can tell it.
The Boston Globe calls Lit a book that "reminds us not only how compelling personal stories can be, but how, in the hands of a master, they can transmute into the highest art." The New York Times Book Review calls it "a master class on the art of the memoir" and Susan Cheever states, simply, that Lit is "the best book about being a woman in America I have read in years."
Praise For Lit: A Memoir…
"Searing. . . . A book that lassos you, hogties your emotions and won't let you go. . . . Chronicles with searching intelligence, humor and grace the author's slow, sometimes exhilarating, sometimes painful discovery of her vocation and her voice as a poet and writer." — Michiko Kakutani, New York Times
"Karr could tell you what's on her grocery list, and its humor would make you bust a gut, its unexpected insights would make you think and her pitch-perfect command of our American vernacular might even take your breath away…. [Karr] holds the position of grande dame memoirista." — Samantha Dunn, Los Angeles Times
"In a gravelly, ground-glass-under-your-heel voice that can take you from laughter to awe in a few sentences, Karr has written the best book about being a woman in America I have read in years." — Susan Cheever, New York Times Book Review
"As irresistible as it is unflinchingly honest. . . . With grace, saltiness and profanity galore, Karr undeniably re-establishes herself as one of our finest memoirists and storytellers." — Melanie Gideon, San Francisco Chronicle
"Dazzling. . . . Lit reminds us not only how compelling personal stories can be, but how, in the hands of a master, they can transmute into the highest art." — Rebecca Steinitz, Boston Globe
"[A] radiant, rueful, rip-roaring book. . . .Warm enough to burn a hole in your heart." — Ken Tucker, Entertainment Weekly
"Scrappy, gut-wrenching. . . . Irresistible. . . . [Written] with trademark wit, precision, and unfailing courage." — Pam Houston, O Magazine
"There isn't a single false note in Lit." — Carmela Ciuraru, Christian Science Monitor
"A redemptive, painfully funny story." — Bob Minzesheimer, USA Today
"Karr movingly depicts her halting journey into AA, making it clear her grit and spirit remain intact." — Michelle Green, People, 3 ½ out of 4 stars
"Karr's sharp and funny sensibility won me over to her previous two volumes, but what wins me over to Lit is the way her acute self-awareness conquers any hint that hers is the only version of this story…. Karr is as funny as ever." — Valery Sayers, Washington Post
"Mary Karr has never lacked for material. But she's always delivered on the craft side, too, with her poet's gift for show-and-tell." — Elizabeth Foy Larsen, Minneapolis Star Tribune
"A brutally honest, sparkling story." — Glamour
"Mary Karr restores memoir form's dignity with Lit." — Vanity Fair
"With this third book Karr has managed to raise the bar higher still on the genre of memoir." — Steve Ross, Huffington Post
"Lit matches its predecessors in candor and outstrips them in insight." — Commonweal
"[Karr] continues to delight with her signature dark humor and pitch-perfect metaphors delivering large doses of wit and painful insights. . . . There are plenty of memoirs about being drunk, but this one has Karr's voice-both sure-footed and breezy-behind it." — Beth Greenfield, Time Out New York
Harper Perennial, 9780060596996, 432pp.
Publication Date: June 29, 2010
About the Author
Mary Karr is the author of three award-winning, bestselling memoirs: The Liars' Club, Cherry, and Lit, as well as The Art of Memoir, also a New York Times bestseller. She received Guggenheim and Radcliffe Fellowships for poetry and is the Peck Professor of Literature at Syracuse University.
The first sentence of Lit is "Any way I tell this story is a lie." What does Mary mean by this? Is she a reliable storyteller? Is there a story in your family famous for its different versions? Is there a story you can't tell without "feeling" like it's partially untrue?
Mary refers to her mother as "a shadow stitched" to her feet, and to herself and her mother as "dovetailing drunks" and as facing off "like a pair of mirrors". What does this say about Mary's relationship with her mother? Do all women feel this way about their moms? At what age is it most painful? At what age—if any—does it end?
Mary writes, "I sense the oppressive weight of my old self inside me pressing to run wild again. My old mother I'm trying to keep in." Have you ever found yourself wincing at how you resemble your mother?
How is Mary's trip to college with Mother the "hairpin", as she describes it, in her early life? This trip marks her introduction to real drinking, but it's also the point at which Mary would "start furnishing [Mother] with reading instead of the other way around." What does Mary mean by this, and what's the significance of this transition? Was there an "official" transition to adulthood in your life? Was it marked by college, marriage, parenthood, career success, or something else?
"Words shape our realities," Mary concludes when she registers the meaning of the Ernst Cassirer quote: "The same function which the image of God performs, the same tendency to permanent existence, may be ascribed to the uttered sound of language". How does this realization frame Mary's determination to become a poet? At what times do religion and poetry seem to do the same things for her?
Mary calls poetry "one of the sole spiritual acts in our mostly godless household" and poets "the gods I worshipped all my life" Has literature ever substituted for spirituality with you? In what ways has it done so?
Mary describes Daddy as a silent fixture of her adolescence. How does her father's silence emerge, later, as a threatening force? How does her father's silence compare to the silence of the Whitbread's, and to Warren's characteristic reserve? If Mary understood early on that "words would define me, govern and determine me", then in what way is "wordlessness" her enemy?
Why does Mary call her time in recovery a "nervous breakthrough"? Have the darker times in your own life preceded or manifested similar changes or moments of clarity?
Mary has "mysterious blanks" in her memory of fights with Warren. What are the glaring blanks in your own memory? Do you think these are genuine blanks of memories or memories that you have chosen to block out?
In what ways does Mary's son Dev save her? If she had lost custody of him in a divorce, would she still have gotten sober? How have your children made you better, at time, or ground you to a nub in others?