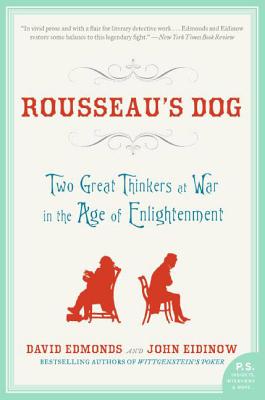 Rousseau's Dog
Two Great Thinkers at War in the Age of Enlightenment
Paperback

* Individual store prices may vary.
Description
In 1766 philosopher, novelist, composer, and political provocateur Jean-Jacques Rousseau was a fugitive, decried by his enemies as a dangerous madman. Meanwhile David Hume—now recognized as the foremost philosopher in the English language—was being universally lauded as a paragon of decency. And so Rousseau came to England with his beloved dog, Sultan, and willingly took refuge with his more respected counterpart. But within months, the exile was loudly accusing his benefactor of plotting to dishonor him—which prompted a most uncharacteristically violent response from Hume. And so began a remarkable war of words and actions that ensnared many of the leading figures in British and French society, and became the talk of intellectual Europe.
Rousseau's Dog is the fascinating true story of the bitter and very public quarrel that turned the Age of Enlightenment's two most influential thinkers into deadliest of foes—a most human tale of compassion, treachery, anger, and revenge; of celebrity and its price; of shameless spin; of destroyed reputations and shattered friendships.
Praise For Rousseau's Dog: Two Great Thinkers at War in the Age of Enlightenment…
"A detailed and fascinating reexamination of this story by David Edmonds and John Eidinow." — New York Review of Books
"Sprightly and accessible . . . David Edmonds and John Eidinow have heightened intellectual feuds beyond the shallows of anecdote." — San Francisco Chronicle
"As we've come to expect from Edmunds and Eidinow, their analysis of the personalities in question is sharp and engaging." — Los Angeles Times
"An enthralling account of a trifling provocation inflated to epic proportions." — Kirkus Reviews
Ecco, 9780060744915, 368pp.
Publication Date: April 10, 2007
About the Author
David Edmonds is an award-winning journalists with the BBC. He's the bestselling authors of Bobby Fischer Goes to War and Wittgenstein's Poker.


John Eidinow is an award-winning journalist with the BBC. He's the bestselling authors of Bobby Fischer Goes to War and Wittgenstein's Poker.