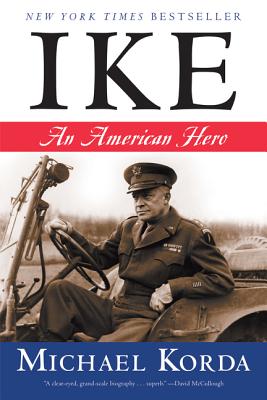 Ike
An American Hero
Paperback

* Individual store prices may vary.
Other Editions of This Title:
Hardcover (8/21/2007)
Description
"A clear-eyed, grand-scale biography . . . written with great vitality and a broad understanding of both military history and human nature . . . illuminating . . . [Eisenhower] provides a vivid lesson in leadership at just the moment when leadership is of such paramount importance to the nation and the world."—David McCullough
Ike is acclaimed author Michael Korda's sweeping and enthralling biography of Dwight David Eisenhower, arguably America's greatest general and one of her best presidents—a remarkable man in an extraordinary time, the hero who won the war and thereafter kept the peace.
In this, the first single volume biography of Dwight D. Eisenhower to appear in decades, Michael Korda offers an honest and penetrating look at the general and president reverentially known as Ike.
Full of fascinating details and anecdotes drawn from a rich treasure of letters, diaries, and historical documents, Ike shows how Eisenhower's genius as a commander and a leader, his generosity of spirit, and his devotion to duty were vital in achieving victory, and formed, in many ways large and small, the world in which we now live.
Praise For Ike: An American Hero…
"Michael Korda has brought us a brilliantly vibrant and compulsively readable one-volume life of one of the giants of the twentieth century. This splendid book draws on Korda's deep literary skill, his mastery of military history, his understanding of human character and his relentless narrative energy. Forty years after his death, Eisenhower does not have the place he deserves in the average American's memory. Korda's Ike should change that. It shows us what a complex and fascinating human being the private Eisenhower really was. And in this time of skepticism about our leaders, Korda's book holds out a shining example of a General and President whose values, character and leadership give us so much to admire."
— Michael Beschloss

"Dwight Eisenhower emerges in Michael Korda's splendid book as a wise leader and an effective Allied Commander. It took a long time for this perspective on the man who led the Alliance to victory in Europe and our thirty-fourth President to develop. Michel Korda's well-written and thoughtful book has accomplished it."
— Henry A. Kissinger

"I like IKE very much! The tone is wonderful, informal, conversational, anecdotal rather than crusty historical, and properly gossipy in places where all there is to go on is gossip. Most impressive is the handling of the extremely complex and detailed story about strategy, tactics, and logistics, high command politics and intrigue, MacArthur, Montgomery, and other four-star egoists, and both small-scale and large-scale combat. Michael Korda shows us how amazingly effective Ike was as a soother of egos and a leader of millions of men. He has done a superb job in dispelling his fuddy-duddy image and restoring him to heroism."
— Justin D. Kaplan Pulitzer Prize-winning author of Mr. Clemens and Mark Twain

"A splendid biography of Ike. I greatly enjoyed reading it—there is never a dull moment."
— Hugh Thomas

"Reading Ike is like having a long, engaging conversation with Michael Korda; it's warm, witty, and erudite, especially in the arcane field of military strategy. Korda's biography of a great president is as close to the real man, who was passionate and highly intelligent but also veiled, as we will probably ever have."
— Richard Rhodes, author of The Making of the Atomic Bomb

"Undeniably engaging . . . Korda . . . successfully reintroduces the Eisenhower personality that was so popular privately, militarily, and politically."
— Booklist

"Korda's fluent writing and insights make this a page-turner and a welcome read for military and political buffs and Eisenhower enthusiasts."
— Library Journal

"A pleasure to read. It's filled with rich details of military strategy and descriptive character sketches of colleagues and rivals, including George Patton and Douglas MacArthur, who could have sprung from novels."
— USA Today

"Worth reading from beginning to end. . . . Two special strengths of the biography are Korda's attention to detail in the heat of battle and his attention to Ike's only wife, Mamie [Geneva Doud]. . . . Korda's writing style is so pure, so clear, that even battle scenes feel lustrous. . . . Korda is masterful at weaving Mamie's despondency and triumphs throughout the text."
— Denver Post

"Michael Korda has produced a sweeping, crisply written account of Eisenhower's meteoric rise through the ranks and his leadership of the war against Nazi Germany. . . . Academics may dismiss Ike: An American Hero as popular history, but most others will read with pleasure a great American story, well told."
— Wall Street Journal

"A fluid… biography. . . . His primary goal… is to humanize this mythic figure, and he succeeds."
— New York Times Book Review
Harper Perennial, 9780060756666, 800pp.
Publication Date: May 6, 2008
About the Author
Michael Korda is the author of Ulysses S. Grant, Ike, Hero, and Charmed Lives. Educated at Le Rosey in Switzerland and at Magdalen College, Oxford, he served in the Royal Air Force. He took part in the Hungarian Revolution of 1956 and on its fiftieth anniversary was awarded the Order of Merit of the People's Republic of Hungary. He and his wife, Margaret, make their home in Dutchess County, New York.