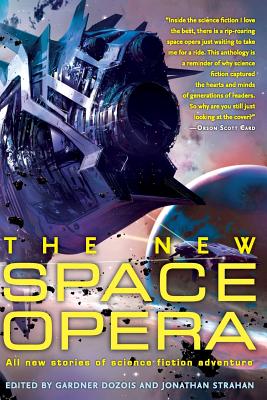 The New Space Opera
Paperback

* Individual store prices may vary.
Other Editions of This Title:
Digital Audiobook (7/31/2013)
Description
Winner of the Locus Award, from award-winning and nominated editors Gardner Dozois and Jonathan Strahan, a stellar collection of the grandest, most cutting-edge epic stories in science fiction's biggest genre—all never-before-published—by it's most revereds practitioners and most promising newcomers.
Contributors include Stephen Baxter • Greg Bear • Gregory Benford • Tony Daniel • Greg Egan • Peter F. Hamilton • M. John Harrison • James Patrick Kelly • Nancy Kress • Ken Macleod • Ian McDonald • Alastair Reynolds • Robert Silverberg • Dan Simmons • Michael Swanwick • Walter Jon Williams
What sets space opera apart from other fiction is its sheer scale: it is an exuberant celebration of the very large and the very small, of the very old and the very new, of the vast, panoramic instant we live in; the instant in which everything that went before melds with everything yet to be. It is Star Wars and Battlestar Galactica.
The only book of its kind, The New Space Opera brings together for the first time the generation of writers who spawned and embody the "new space opera, " aswell as other talents destined to join their ranks. Going beyond everything that has come before, this fresh, visionary anthology is essential reading for every science fiction fan.
Praise For The New Space Opera…
"Dynamic and exciting, THE NEW SPACE OPERA is...an essential roadmap to the cutting edge of SF today..." — Charles Stross
"One of the best anthologies ever assembled by this most prolific of science fiction editors...." — Joe Haldeman
"Highly recommended!" — Greg Bear
"...Dozois and Strahan bring together some of the finest writers in the field..." — Vernor Vinge
"This anthology is a reminder of why science fiction captured the hearts and minds of generations of generations of readers." — Orson Scott Card
"In sheer breathtaking, mind-expanding scope, this collection ... delivers hours of exhilarating reading." — Booklist
Harper Voyager, 9780060846756, 528pp.
Publication Date: June 12, 2007
About the Author
Gardner Dozois is a highly esteemed author and Hugo Award-winning editor of several SF anthologies and, for twenty years, Asimov's Science Fiction magazine.
Jonathan Strahan has co-edited The Year's Best Australian Science Fiction and Fantasy series of anthologies for HarperCollins Australia, co-edits the Science Fiction: The Best of . . . and Fantasy: The Best of . . . anthology series with Karen Haber for Simon & Schuster/ibooks, edits the Best Short Novels anthology series for the Doubleday Science Fiction Book Club, and co-edited The Locus Awards for Eos with Charles N. Brown. He is also the Reviews Editor for Locus: The Magazine of the Science Fiction and Fantasy Fields, and reviews for the magazine regularly. He is currently working on The New Space Opera II.