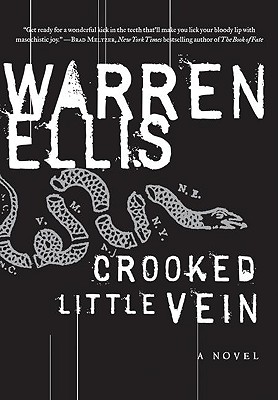 Crooked Little Vein
A Novel
Paperback

* Individual store prices may vary.
Other Editions of This Title:
Digital Audiobook (11/14/2007)
MP3 CD (11/15/2007)
Compact Disc (11/15/2007)
Description
Burned-out private dick Michael McGill needs to jump-start his career. What he gets instead is a cattle prod to the crotch. The president's heroin-addicted chief of staff wants McGill to find the Constitution—the real one the Founding Fathers secretly devised for the time of gravest crisis. And with God, civility, and Mom's homemade apple pie already dead or dying, that time is now. But McGill has a talent for stumbling into every imaginable depravity—and this case is driving him even deeper into America's darkest, dankest underbelly, toward obscenities that boggle even his mind.
Praise For Crooked Little Vein: A Novel…
"A heart-shredding work of scatological brilliance that gleefully annihilates private-eye tropes and pole-vaults over taste lines." — Los Angeles Times Book Review
"[A] brilliantly nasty and weird detective novel." — Entertainment Weekly, EW 100 Pick
"[C]ompletely compulsive, impossible to put down." — Globe and Mail (Toronto)
"CROOKED LITTLE VEIN...is a book readers will not soon forget." — Chicago Tribune
"Not for the faint of heart...surprisingly funny (with shades of Lamb author Christopher Moore)." — Entertainment Weekly
"[M]ay be destined to become one of the great underground classics of the 21st century." — Lansing State Journal
"A relentlessly fascinating page-turner...brilliantly and effervescently subversive." — The Gazette (Montreal)
"Ellis is a formidable talent whose wit and insight fit perfectly into the crime genre." — Los Angeles Times
"[A] much-needed kick in the butt for a genre that may be more stagnant than its enthusiasts realize." — Philadelphia Inquirer
"Packed with exciting, hilarious, and disturbing events...outrageously entertaining." — Winnipeg Free Press
"So funny you may just laugh out loud." — Toronto Star
"If you're looking for an antidote to the stifling formulae of genre fiction, this could be your book." — New York magazine
"Get ready for a wonderful kick in the teeth that'll make you lick your bloody lip with masochistic joy. " — Brad Meltzer, New York Times bestselling author of THE BOOK OF FATE and writer of The Justice League series
"Stop it. You're frightening me." — William Gibson, author of Spook Country
"[L]augh-out-loud funny...a deeply inventive look at the undercurrents beneath the mainstream popular culture." — Charlotte Observer
"Funny, inventive and blithely appalling, this book is Dante on paint fumes." — Joss Whedon, creator, writer and director of the Buffy the Vampire Slayer series
"[S]omewhere between the noir of Frank Miller and dark comedy of Chuck Palahniuk." — Forbes.com
"A high-energy joyride." — Library Journal
"CROOKED LITTLE VEIN is a gem of a book -- angry, hilarious, and just plain weird...compulsively so." — Kevin J. Anderson, New York Times bestselling co-author of HUNTERS OF DUNE
"Warren Ellis writes like a bi-polar Raymond Chandler." — Kinky Friedman, author of Ten Little Indians
"There's at least one surprise, laugh, and genius turn of phrase per page here. " — Myspace Books
"Think Kurt Vonnegut having tea with William Burroughs and a bipolar Raymond Chandler...Ellis takes your breath away." — Madison County Herald (Mississippi)
"[A] snappily paced homage to William Burroughs' Naked Lunch." — Publishers Weekly
"[A] fast-paced and funny read...unforgettable." — Boise Weekly
"CROOKED LITTLE VEIN is a wild, rambling, funny look at the dark alleys of the American sexual landscape." — Neal Bohl for Crimespree
"Rich, dark humor and biting look at the world." — PopMatters.com
William Morrow Paperbacks, 9780061252051, 304pp.
Publication Date: July 22, 2008
About the Author
Warren Ellis is one of the most prolific, read, and admired graphic novelists in the world and the creator of Transmetropolitan and The Authority. He lives in southern England with his partner, Niki, and their daughter, Lilith. He never sleeps.
or
Not Currently Available for Direct Purchase