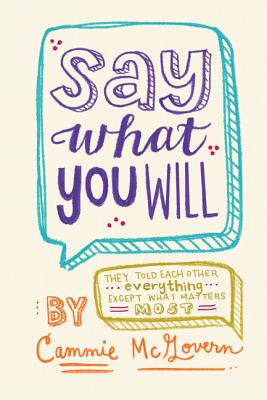 Say What You Will (Hardcover)
HarperTeen, 9780062271105, 352pp.
Publication Date: June 3, 2014
Other Editions of This Title:
Digital Audiobook (6/2/2014)
Paperback (5/5/2015)
Pre-Recorded Audio Player (6/3/2014)
Compact Disc (6/3/2014)
Compact Disc (6/3/2014)
* Individual store prices may vary.
Description
"A unique and unforgettable love." —Teen Vogue
John Green's The Fault in Our Stars meets Rainbow Rowell's Eleanor & Park in this beautifully written, incredibly honest, and emotionally poignant novel.
Cammie McGovern's insightful young adult debut is a heartfelt and heartbreaking story about how we can all feel lost until we find someone who loves us because of our faults, not in spite of them.
Born with cerebral palsy, Amy can't walk without a walker, talk without a voice box, or even fully control her facial expressions. Plagued by obsessive-compulsive disorder, Matthew is consumed with repeated thoughts, neurotic rituals, and crippling fear.
Both in desperate need of someone to help them reach out to the world, Amy and Matthew are more alike than either ever realized.
When Amy decides to hire student aides to help her in her senior year at Coral Hills High School, these two teens are thrust into each other's lives. As they begin to spend time with each other, what started as a blossoming friendship eventually grows into something neither expected.
About the Author
Cammie McGovern is the author of Say What You Will as well as the adult novels Neighborhood Watch, Eye Contact, and The Art of Seeing. Cammie is also one of the founders of Whole Children, a resource center that runs after-school classes and programs for children with special needs. She lives in Amherst, Massachusetts, with her husband and three children.
Praise For Say What You Will…
"In Cammie McGovern's debut novel Say What You Will, Amy and Matthew will break your heart and then with their resiliency and wit and ardor put it back together. This is a book to read, savor, and pass on and on until it has gone around the world twice."
— Ron Koertge, author of Stoner & Spaz

"A unique an unforgettable love."
— Teen Vogue

"Exhilarating and heartrending. With a smart, proud, and capable protagonist eager to take her life by the reins, this novel is stunning."
— ALA Booklist (starred review)

"McGovern avoids gooeyness or condescension by making Amy and Matthew individuals, not diagnoses, and their relationship not just plausible, but suspenseful. Watching Amy and Matthew grapple with big questions, readers will be surprised, moved, amused, worried, hopeful, and grateful to have spent time with them."
— Publishers Weekly (starred review)

"McGovern's triumph is how well she normalizes and highlights the variety of disability experiences among teens and their often circuitous journeys toward claiming their voices and right to self-determination. Ultimately, a deeply engaging and rewarding story."
— Kirkus Reviews

"What this book does best is move beyond the typical concerns and stigmas people with disabilities inevitably encounter to present an honest portrayal of the difficulties of growing up faced by these particular characters."
— Horn Book

"Cammie McGovern channels her knowledge and passion for special needs kids in Say What You Will. Like the deservedly best-selling Wonder by R.J. Palacio—required reading for every family—this doesn't just get you talking, it gets you thinking, feeling and rejoicing"
— Family Circle

"A beautifully written story about two teens who find each other in spite of what might seem like insurmountable problems."
— Examiner.com (Five star review)

"It's a little bit 'Perks of Being a Wallflower,' a little bit 'Eleanor & Park' and a lot of something else entirely. A young adult book with grown-up lessons."
— Metro US

"Cammie McGovern crafts a story that takes a realistic look at people who have disabilities but who are not their disability. This story isn't about rescuing anyone. It is about setting aside fears, limitations, and appearances, and taking a chance at opening up. Everyone should meet Amy and Matt."
— Hypable.com