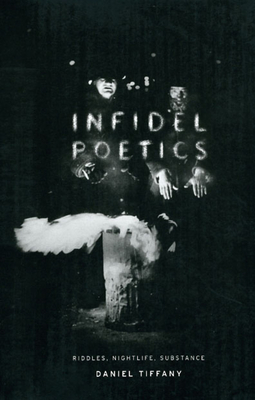 Infidel Poetics
Riddles, Nightlife, Substance
Hardcover

* Individual store prices may vary.
Other Editions of This Title:
Paperback (10/15/2009)
Description
Poetry has long been regarded as the least accessible of literary genres. But how much does the obscurity that confounds readers of a poem differ from, say, the slang that seduces listeners of hip-hop?  Infidel Poetics examines not only the shared incomprensibilities of poetry and slang, but poetry's genetic relation to the spectacle of underground culture.

Charting connections between vernacular poetry, lyric obscurity, and types of social relations—networks of darkened streets in preindustrial cities, the historical underworld of taverns and clubs, the subcultures of the avant-garde—Daniel Tiffany shows that obscurity in poetry has functioned for hundreds of years as a medium of alternative societies.  For example, he discovers in the submerged tradition of canting poetry and its eccentric genres—thieves' carols, drinking songs, beggars' chants—a genealogy of modern nightlife, but also a visible underworld of social and verbal substance, a demimonde for sale.

Ranging from Anglo-Saxon riddles to Emily Dickinson, from the icy logos of Parmenides to the monadology of Leibniz, from Mother Goose to Mallarmé, Infidel Poetics offers an exhilarating account of the subversive power of obscurity in word, substance, and deed.
Praise For Infidel Poetics: Riddles, Nightlife, Substance…
"The ambitiousness of Tiffany's argument is exceeded only by the dazzling success of it . . . At once meditative, exhaustive, and elegant…"
— Michael Snediker

"As a preliminary model of the communal being of the lyric reader . . . Tiffany offers us the initiate whose relation with another is routed through shared contact with a dense sociologically subterranean language. Infidel Poetics would have been an important book had it done nothing more than to trace this figure's surprising centrality across literary and vernacular poetries. But the book's true urgency for contemporary criticism lies in Tiffany's exploration of the second mode of lyric collectivity, which he defines, somewhat forbiddingly, at the book's outset as 'A constellation, or mass, of expressive relations between entities which are essentially solipsistic.' . . . In Tiffany's hands, the lyric's confused reflection of the whole looks less like an opportunity for knowledge and more like a place to live."
 
— Michael Clune

"Tiffany's readings are wittily written, closely argued, and charismatically virtuosic in their attention to the occult powers of etymology. Though the textual examples are addressed in roughly linear historical order, they make their case, powerfully, through analogy and/or arcane contiguity rather than historical causality. In this sense, Infidel Poetics typifies Tiffany's special breed of criticism, which might be called 'alchemical' in that it attempts to derive epistemological transformations by setting a seemingly inapposite selection of materials in contact with each other."
— Joyelle McSweeney, Boston Review
University of Chicago Press, 9780226803098, 264pp.
Publication Date: October 15, 2009
About the Author
Daniel Tiffany is the author of five books of poetry and literary criticism, including Toy Medium: Materialism and Modern Lyric (named one of the "Best Books of 2000" by the Los Angeles Times) and the forthcoming Dandelion Clock. In addition, he has published  
translations of works from French, Greek, and Italian. His poems have appeared in Tin House, Boston Review, and the Paris Review, and his critical essays on poetry and poetics have been published in Critical Inquiry, PMLA, and Modernism/Modernity.  He has held residencies at the MacDowell Colony and the Karolyi Foundation in France and been the recipient of a Whiting Fellowship. He teaches at the University of Southern California in Los Angeles.

or
Not Currently Available for Direct Purchase