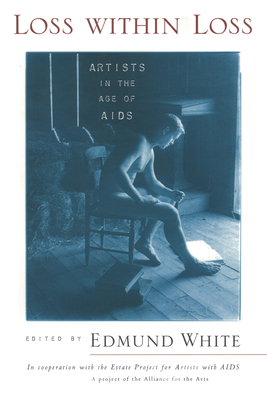 Loss within Loss
Artists in the Age of AIDS
Paperback

* Individual store prices may vary.
Description
When an artist dies we face two great losses: the person and the work he did not live to do.
Loss within Loss
 is a moving collaboration by some of America's most eloquent writers, who supply wry, raging, sorrowful, and buoyant accounts of artist friends and lovers struck down by AIDS. These essayists include Maya Angelou, Alan Gurganus, Brad Gooch, John Berendt, Craig Lucas, Robert Rosenblum, and eighteen others. Many of the subjects of the essays were already prominent—James Merrill, Paul Monette, David Wojnarowicz—but many others died young, before they were able to fulfil the promise of their lives and art.
Loss within Loss
spans all of the arts and includes portraits of choreographers, painters, poets, actors, playwrights, sculptors, editors, composers, and architects.
This landmark book is published in association with the Estate Project for Artists with AIDS, a national organization that preserves art works created by artists living with HIV or lost to AIDS. Loss within Loss stands as a powerful reminder of the devastating impact of the AIDS epidemic on the arts community and as the first real survey of that devastation. Though these accounts are often intensely sad, Loss within Loss is an invigorating, sometimes even exuberant, testimony to the sheer joy of being an artist . . . and being alive.
Praise For Loss within Loss: Artists in the Age of AIDS…
"A searing, and often bitingly funny collection of personal essays by almost two dozen writers—John Berendt, Brad Gooch, Allan Gurganus, and Sarah Schulman among them—Loss within Loss remembers over twenty creative artists lost to AIDS in the past twenty years, including poet James Merrill, filmmaker Derek Jarman, and painter and writer David Wojnarowicz.  Rather than being a harrowing, in-the-trenches account of AIDS . . .  Loss within Loss is a reflective, self-possessed, and frequently inspiring testimonial, benefiting from the perspective that only time provides."—David Bahr, The Advocate

"This volume, published with the support of the leading nonprofit serving HIV-positive artists, is a poignant reminder of the devastating impact of the AIDS epidemic on the arts."—Krista Ivy, Library Journal

"These writers pierce the inner sanctum of pain as filmmakers, poets, painters, writers, and choreographers are eulogized and celebrated for their aspirations and achievements in lives cut short by the AIDS pandemic."—Robert Ellsworth, Genre

"Loss within Loss is full of wild stories, bizarre coincidences, and rags-to-riches talent.  Two of the most haunting are Ramsey McPhillip's anecdote that photographer Mark Morrisroe thought of himself as the son of the Boston Strangler, and Sarah Schulman's recollection of writer David B. Reinberg's throwing himself a 'dying party' and having the nerve to almost die during it."—Jameson Currier, Lambda Book Report

"The quality of writing in this collection is uniformly high, as if each writer felt called upon to make the lost loved one as vivid on the page as humanly possible.  The result is an enormously engrossing, sometimes entertaining, always moving book."—Greg Johnson, Atlanta Journal-Constitution

"An extraordinary achievement of witness. Searingly honest, full of feeling, and pissed-off, the essays uncover new truths about one of the most horrific events of the twentieth century."—Tim Miller, author of Shirts & Skin

  "These writers movingly combine elements of profile, eulogy, eye-witness reportage, artistic appraisal, and assessment of the impact (negative and positive) that AIDS had on their friends' work and careers."—Philip Gambone, author of Something Inside

   "For myself, who recently had heart and soul broken by the AIDS-related death of my dearest friend, I can only salute this worthy project."—Ned Rorem, composer and author
    "These essays and memoirs are lucid, thought-provoking and always surprising. I commend Edmund White and the authors for their bravery and eloquence."—David Leavitt, author of Martin Bauman; Or, a Sure Thing


University of Wisconsin Press, 9780299170745, 312pp.
Publication Date: January 8, 2002
About the Author
Edmund White is the award-winning author of The Married Man, The Farewell Symphony, Genet, The Beautiful Room Is Empty, A Boy's Own Story, and several other books. He is professor of creative writing at Princeton University.