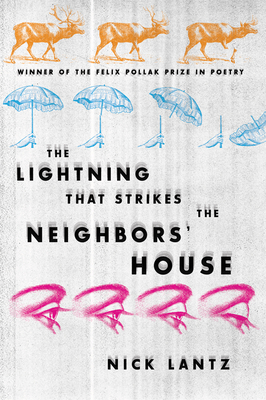 The Lightning That Strikes the Neighbors' House (Wisconsin Poetry Series)
Paperback

* Individual store prices may vary.
Description
Nick Lantz explores the transformative power of tragic and miraculous experiences, through these poems that illuminate near misses of tragedy and transcendence. His gaze is both roving and microscopic—the Challenger explosion, Bigfoot, a love letter written from inside a missile silo, a mother naming and re-naming a family's short-lived pets, and a plea for post-9/11 redemption. Lantz never lets his subjects or his readers off the hook, plunging head first into worlds that are both eccentric and familiar, alarming and hopeful.
Finalist, Foreword Magazine's Poetry Book of the Year
Praise For The Lightning That Strikes the Neighbors' House (Wisconsin Poetry Series)…
"Nick Lantz's impressive poems are remarkable for their range and the variety of ways they maneuver down the page. . . . This is one of the finest books I've read in years."—Vern Rutsala
"Lantz is a poet of many talents, but perhaps his greatest gift is juxtaposition. . . . We listen, amazed, as in poem after poem these notations we would have thought dissonant in fact harmonize, and then crescendo. That I can't figure out how he does it just heightens the thrill."—Joel Brouwer
"Blending pop culture with history, dark humor with philosophy, and lyric intensity with a confident narrative voice, The Lightning That Strikes the Neighbors' House adds up to be far greater than the sum of its parts. The end result is a wise, intelligent book that lingers long after being read, and which further proves that Nick Lantz—despite the lethal irony of his work—is a poet to be believed in."—Kevin González
"Lantz forces us again and again to reexamine the way we see through such a juxtaposition of facts as well as through the voices of characters who search for and experience improbable things: a cryptozoologist, those listening for aliens with SETI, a sci-fi actor, a werewolf. The Lightning That Strikes the Neighbors' House becomes a lament not only for the neighbors and their tragedy but for ourselves––that we're unharmed, that we can keep on keeping on."—The Rumpus
"Nick Lantz's We Don't Know We Don't Know and The Lightning That Strikes the Neighbors' House are both phenomenal books—the former is the 2009 Bakeless Prize-winner for poetry, the latter the 2010 Felix Pollack Prize-winner. Let's acknowledge that any writer who won just one of those contests would be worth attention; to win both prizes, and to have the books come out basically simultaneously, is the equivalent of a baseball player hitting a home run not just in his first at-bat, but off his first pitch." —Rain Taxi
University of Wisconsin Press, 9780299235840, 80pp.
Publication Date: April 1, 2010
About the Author
Nick Lantz is a writer and editor in Madison, Wisconsin, and a former Jay C. and Ruth Halls Poetry Fellow at the University of Wisconsin–Madison. He is author of We Don't Know We Don't Know, winner of the Breadloaf Writers' Conference Bakeless Prize.