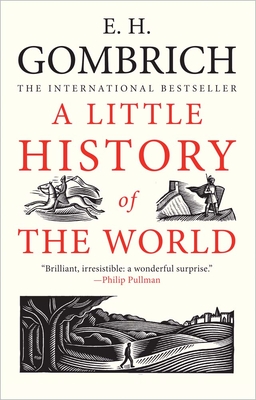 A Little History of the World (Little Histories)
Paperback

* Individual store prices may vary.
Other Editions of This Title:
Digital Audiobook (12/31/2005)
Paperback (10/22/2013)
Hardcover (10/13/2005)
Compact Disc (6/1/2006)
Hardcover (11/1/2011)
MP3 CD (6/1/2006)
Compact Disc (6/1/2006)
Description
The international bestseller: E. H. Gombrich's sweeping history of the world, for the curious of all ages
 
"All stories begin with 'Once upon a time.' And that's just what this story is all about: what happened, once upon a time." So begins A Little History of the World, an engaging and lively book written for readers both young and old. Rather than focusing on dry facts and dates, E. H. Gombrich vividly brings the full span of human experience on Earth to life, from the stone age to the atomic age. He paints a colorful picture of wars and conquests; of grand works of art; of the advances and limitations of science; of remarkable people and remarkable events, from Confucius to Catherine the Great to Winston Churchill, and from the invention of art to the destruction of the Berlin Wall.
 
For adults seeking a single-volume overview of world history, for students in search of a quick refresher course, or for families to read and learn from together, Gombrich's Little History enchants and educates.
Praise For A Little History of the World (Little Histories)…
"In simple, vivid prose, Gombrich surveys the human past from pre-history to his own time. . . . Lucky children will have this book read to them. Intelligent adults will read it for themselves and regain contact with the spirit of European humanism at its best."—Anthony Grafton, Wall Street Journal


". . . a marvellous antidote to history without chronology: the whole experience of human history, from prehistory to the Second World War, compressed into a flowing narrative. . . . [Gombrich] excels in creating a sense of the continuities of history - the ways in which human nature has not budged over the millennium, and the smallness of the differences between people. A delight."—Daily Telegraph
"Gombrich knows precisely how to converse with his audience, intelligent children between nine and thirteen. He uses powerful imagery to convey the sheer length of time that separates us from the dinosaurs."—Andrew Roberts, FT Magazine
"Gombrich opens with the most magical definition of history I have ever read . . . Tolerance, reason and humanity . . . suffuse every page of the Little History."—Amanda Vickery, Guardian Review
"This 'little history' has aged amazingly well."—New York Times Book Review
"The book is intellectually valuable, and unusual; rather than breaking history into eras or artificial categories. . . . Gombrich contextualizes them all and gives the vast unfolding of the Western world one wise, simple narrative. . . . For adults, it is full of delightful reminders as well as forgotten or never-known tidbits. As for younger readers . . . [the book] is a treasure for them."—Katie Haegele, Philadelphia Inquirer
"This is an unusual work for Yale: a children's history originally published 70 years ago. But it is a work one can quickly come to love. . . . Using vivid imagery, storytelling and sly humor, [Gombrich] brings history to life in a way that adults as well as children can appreciate. The book displays a breadth of knowledge."—Publishers Weekly (starred review)
"The true fairy tale of the evolution of mankind."—Die Zeit
"This is the first English translation of a book written in 1935 in German and translated into 18 languages. Thirty years later, a second German edition was published with a new final chapter. In 40 brief chapters, Gombrich relates the history of humankind from the Stone Age through World War II. In between are historic accounts of such topics as cave people and their inventions (including speech), ancient life along the Nile and in Mesopotamia and Greece, the growth of religion, the Dark Ages, the age of chivalry, the New World, and the Thirty Years' War. Much of this history is told through concise sketches of such figures as Confucius, Alexander the Great, Hannibal, Jesus Christ, Charlemagne, Leonardo da Vinci, Napoleon, and Columbus. Gombrich was asked to write a history geared to younger readers, so the book is filled with innumerable dates and facts, yet it is one to be read by adults. With 41 black-and-white woodcut illustrations and nine maps, it is a timeless and engaging narrative of the human race."—Booklist
"A masterpiece of nonfiction writing for children. It is a wry and charming book, perfectly suited to the capacities of a 10-year-old, but also remarkably free of condescension. An adult can read it with pleasure. And, indeed, with instruction."—Scott McLemee, Newsday
"[A] lively and involving history. . . . Superbly designed and freshly illustrated, this is a book to be savored and collected. . . . This is a text dominated not by dates and facts, but by the sweep of mankind's experience across the centuries, a guide to humanity's achievements and an acute witness to its frailties. The product of a generous and humane sensibility, this timeless account makes intelligible the full span of human history."—Artdaily
"Charmingly illustrated with woodcuts and beautifully produced."—Bookseller

"A timeless and engaging narrative of the human race."—Choice
"Includes insightful looks into the world of art and science . . . readers of virtually any age can enjoy it."—Dennis Lythgoe, deseretnews.com
"The author's voice is conversational, and Gombrich brings clarity to broad movements in history while focusing on rich real-life characters. You'll be reaching for it to help your children with their history assignments when traditional textbooks leave them confused and overwhelmed."—Fort WorthStar-Telegram
"To round out our word feast for young minds, we've picked a nonfiction work called A Little History of the World, a 300-page tome that has been wildly popular across the globe since it was first published in 1935 but has just been translated into English. . . . [An] excellent choice for out-loud family reading."—Catherine Mallette, Fort WorthStar-Telegram
"An intriguingly brisk journey for anyone looking to (re-)enter the world of history, or a realm of events and facts larger than ourselves."—David Podgurski, Greenwich (CT) Times
"Though written for young people, E.H. Gombrich . . . writes with verve and infectious good humor. Yale packages Gombrich's words attractively with woodcutlike illustrations by Clifford Harper."—Fritz Lanham, Houston Chronicle
"Imagine Goethe giving up the role of sage long enough to become a children's author and you will have a reasonably good idea of the book's content . . . As for the style . . . well, that is something even more remarkable. The tone is wry, at times, without ever being jokey—a kind of light seriousness that is very respectful of its young audience . . . Gombrich commanded a really humbling degree of erudition, but always with a certain generosity towards his audience. That combination is very much in evidence throughout."—Scott McLemee, Inside Higher Ed
"A lovely, lively historical survey that takes in Neanderthals, Hohenzollerns and just about everything in between . . . Conversational, sometimes playful . . . A fine conception and summarizing of the world's checkered past for young and old."—Kirkus Reviews (starred review)
"A delightful book that relates the history of the world [and] the 'bottomless well' of history in a conversational way."—Coleen Kelly, Minneapolis Star Tribune​
"Speaks to readers of any age. Gombrich's sensibility is both a mystery and a language."—Mindy Aloff, New York Observer​
"The sheer beauty of the language and charm in the writing is enough to recommend [this book] to readers of all ages, and begs to be read out loud. . . . It's quite wonderful."—Kelly Everding, Rain Taxi
"Though written for kids, this is a book the whole family will love."—Christy Karras, Salt Lake Tribune (Best Books of 2005)
"Presented in a story-like fashion, and no one has done it better than E.H. Gombrich."—Kevin Walker, Tampa Bay Online
Featured in the 2006 Association of American University Presses (AAUP)
University Press Books for Public and Secondary School Libraries
Named a Favorite Book of 2005 by the
Los Angeles Times
A 2006 Book Sense Highlight
E.H. Gombrich was awarded the 1985 International Balzan Foundation Prize
"A brilliant piece of narrative, splendidly organised, told with an energy and confidence that are enormously attractive, and suffused with all the humanity and generosity of spirit that Gombrich's thousands of admirers came to cherish during his long and richly productive life. It's a wonderful surprise: irresistible, in fact."—Philip Pullman
"Imagine the full story of human habitation on our planet being told in such flowing prose that you want to read it out loud. If you can't imagine that, read A Little History of the World and experience it!"—Patricia S. Schroeder, President and CEO of the Association of American Publishers and Former U.S. Representative from Colorado
Yale University Press, 9780300143324, 304pp.
Publication Date: October 7, 2008
About the Author
Among E. H. Gombrich's many writings are the international bestsellers The Story of Art and Art and Illusion. He was director of the Warburg Institute of the University of London from 1959 to 1976.