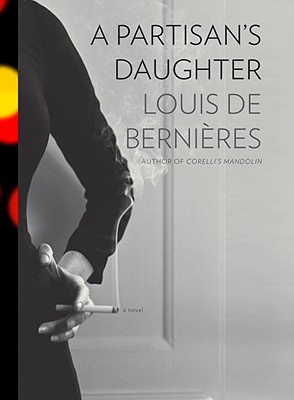 A Partisan's Daughter
Hardcover

* Individual store prices may vary.
Other Editions of This Title:
Digital Audiobook (10/6/2008)
Paperback (10/6/2009)
Description
From the acclaimed author of Corelli's Mandolin and Birds Without Wings ("de Bernières has reached heights that few modern novelists ever attempt" —The Washington Post Book World) comes an intimate new novel, a love story at once raw and sweetly funny, wry and heartbreakingly sad.

He's Chris: bored, lonely, trapped in a loveless, sexless marriage. In his forties, he's a stranger inside the youth culture of London in the late 1970s, a stranger to himself on the night he invites a hooker into his car.

She's Roza: Yugoslavian, recently moved to London, the daughter of one of Tito's partisans. She's in her twenties but has already lived a life filled with danger, misadventure, romance, and tragedy. And although she's not a hooker, when she's propositioned by Chris, she gets into his car anyway.

Over the next months Roza tells Chris the stories of her past. She's a fast-talking, wily Scheherazade, saving her own life by telling it to Chris. And he takes in her tales as if they were oxygen in an otherwise airless world. But is Roza telling the truth? Does Chris hear the stories through the filter of his own need? Does it even matter?

This deeply moving novel of their unlikely love—narrated both in the moment and in recollection, each of their voices deftly realized—is also a brilliantly subtle commentary on storytelling: its seductions and powers, and its ultimately unavoidable dangers.
Praise For A Partisan's Daughter…
"A wise and moving novel, perfectly accomplished. It shines fresh light on the nature of love . . . Like Ian McEwan's On Chesil Beach, A Partisan's Daughter is a novel about missed opportunities and wrong paths taken, tracing the way in which one false move can alter the history of a life . . . A glory."
–The Guardian

"How do you follow up Corelli's Mandolin, one of the most successful British novels of all time? . . . A Partisan's Daughter, although also revolving around politics, history and romance, is very much a departure. Yet it is a triumph–a finely-executed little masterpiece."
–The Mirror

"Although Scheherazade may be the most famous damsel ever to delay her fate by spinning out nightly yarns of fantasy and intrigue, Roza, de Bernières's captivating temptress, is equally gifted in the art of storytelling . . . A provocative and artful analyst of the human psyche, de Bernières vividly celebrates the tantalizing strength of stories to transform individual lives through their eternal and universal appeal."
–Booklist (starred)

"Gripping . . . De Bernières's mellifluent, clear prose slips through the reader's mind with efficient ease, and even at its most dramatically jarring, you never need to come up for air. This is de Bernières's skill, and it is a considerable one."
–The Times

"Vintage de Bernières . . . The author, like Roza, knows how to construct a captivating narrative, and A Partisan's Daughter is a graceful, persuasive exploration of boundless storytelling and the limits of love."
–BookPage

"An attractive and completely compelling story about the power of narrative."
–Daily Mail

"In A Partisan's Daughter, his urgent, spare new novel of romantic obsession, Louis de Bernières, proficient at intricate historical narratives, shows himself an artist of the simpler story as well. Not that simple means easy. If prostitution, as so often is said, is the oldest profession, then writing about fallen women must be the oldest literary subject. To make that subject hit its mark requires a new spin. For de Bernières, it's the smoldering repression suffered by a melancholy London salesman."
–New York Times Book Review

"De Bernières is a skilful writer, poetic but unforced, who can soothe you like a masseur, telling well-oiled stories of past excitements, and then just when you are drifting off, dexterously tweak a pressure point."
–Daily Telegraph

Knopf, 9780307268877, 208pp.
Publication Date: October 7, 2008
or
Not Currently Available for Direct Purchase