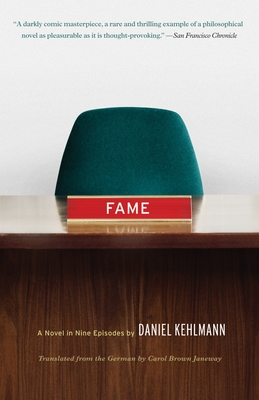 Fame
A Novel in Nine Episodes
Paperback

* Individual store prices may vary.
Other Editions of This Title:
Digital Audiobook (9/13/2010)
Hardcover (9/14/2010)
Paperback (9/1/2011)
Description
Fame and facelessness, truth and deception, spin their way through the nine interlocking chapters of this captivating and wickedly funny novel by the internationally bestselling author of Measuring the World.
 
No one is more surprised than Ebling when his new cell phone begins receiving calls meant for popular actor Ralf Tanner. At first he tries to set the callers right, but soon he is enjoying the drama and power that celebrity brings. Little does he know that his actions will cause a ripple effect that will leave very few lives untouched, from the movie star himself to those lingering at the edges of the limelight.  And as paths cross and plots thicken, the boundaries of fiction and reality start to crumble.
Praise For Fame: A Novel in Nine Episodes…
"A darkly comic masterpiece, a rare and thrilling example of a philosophical novel as pleasurable as it is thought-provoking." —San Francisco Chronicle 
 
"Who would have thought contemporary Central European literature could be so fun and so funny?. . . A real beauty of a book, farcical, satiric, melancholic, and humane." —Jonathan Franzen, author of Freedom 
 
"Dazzling. . . . Has satirical bite and technical sparkle." —The Wall Street Journal
 
"Combines the geeky adventure of Stephenson with the icy wit that Paul Auster was once known for. . . . Engaging, provocative entertainment." —Los Angeles Times
 
"Kafka for the Facebook-famous generation." —Time Out New York  

"This slim, funny, provocative book justifies its structure brilliantly. . . . The stories in Fame make a terrific case for the way fiction enables us to lead double lives—and then, at the stories' end, to go home." —The Boston Globe
 
"[A] brilliant study of the fragility and interconnectedness of life. . . . Layers of conection, irony, despair, and humor distinguish this masterful work." —Publishers Weekly (starred review)
 
"The real subject of Kehlmann's book is language: its fiery possibilities of granting us a name, its humiliating shortcomings in telling who we are, its ignominious deceits and false promises, its ingenious devices to help us translate the experience of ourselves into the experience of another. . . . An extraordinary feat." —The Guardian (London)
 
"Fame is a Nabokovian puzzle, a game of hide-and-seek, and a playful reflection on cultural renown and the lack thereof. . . . Kehlmann has Nabokov's and Barth's love of false leads, false bottoms, and, perhaps, false dichotomies." —Bookforum
 
"In Kehlmann's wickedly clever novel, fame is something his cast of widely disparate characters seek, avoid, flirt with, and succumb to. . . . [They are] luminous creations, and the coincidental devices that link them are brilliant gambits. Kehlmann showcases a flair for devious satire." —Booklist (starred review)
 
"We were so hooked by the intriguing, interwoven stories, we couldn't put it down." —Gawker
 
"[A] darkly comic tour de force. . . . A brazen take on the modern yearning for recognition. Kehlmann is a writer worth reading." —Kirkus Reviews (starred review) 


 
Vintage, 9780307474247, 192pp.
Publication Date: November 1, 2011
About the Author
Daniel Kehlmann's Measuring the World was translated into more than forty languages. Awards his work has received include the Candide Prize, the Literature Prize of the Konrad Adenauer Foundation, the Heimito von Doderer Literature Award, the Kleist Prize, the WELT Literature Prize, and the Thomas Mann Prize. Kehlmann divides his time between Vienna and Berlin.