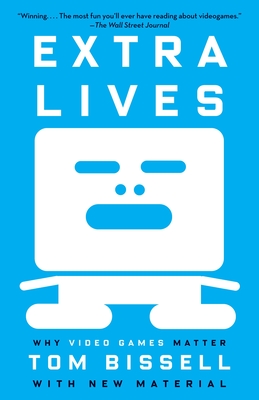 Extra Lives (Paperback)
Why Video Games Matter
Vintage, 9780307474315, 256pp.
Publication Date: June 14, 2011
Other Editions of This Title:
Digital Audiobook (6/7/2010)
Hardcover (6/8/2010)
* Individual store prices may vary.
Description
In Extra Lives, acclaimed writer and life-long video game enthusiast Tom Bissell takes the reader on an insightful and entertaining tour of the art and meaning of video games.
 
In just a few decades, video games have grown increasingly complex and sophisticated, and the companies that produce them are now among the most profitable in the entertainment industry. Yet few outside this world have thought deeply about how these games work, why they are so appealing, and what they are capable of artistically. Blending memoir, criticism, and first-rate reportage, Extra Lives is a milestone work about what might be the dominant popular art form of our time.
About the Author
Tom Bissell (Xbox Live gamertag: T C Bissell; PlayStation Network gamertag: TCBissell) is the author of Chasing the Sea, God Lives in St. Petersburg, and The Father of All Things. A recipient of the Rome Prize, a Guggenheim Fellowship, and the Bay de Noc Community College Alumnus of the Year Award, he teaches fiction writing at Portland State University and lives in Portland, Oregon.
Praise For Extra Lives: Why Video Games Matter…
"Winning. . . . The most fun you'll ever have reading about videogames."
—The Wall Street Journal

"Bissell has written the finest account yet of what it feels like to be a video game player at 'this glorious, frustrating time,' a rare moment when humanity encounters, as he writes, 'a form of storytelling that is, in many ways, completely unprecedented.'"
—New York Times Book Review

"Even if Extra Lives wasn't the only book to deal with the future of videogames in a serious manner, it would probably still be the best one."
—Newsweek

"This journalistic memoir is not only about the meaning of video games; it's about the heat and hesitation of love."
—Los Angeles Times

"Bissell is a Renaissance Man for our out-of-joint time. . . . His descriptions of simulated gore and mayhem manage to be clinical, gripping, and hilarious all at once. He transmits to the reader the primitive, visceral excitements that make video games so enticing, even addictive, to their legions of devotees."
—The New Republic
 
"What should videogame criticism look like? Bissell's book offers plenty of tantalizing possibilities. . . . A deeply personal work, as entertaining as the video games it profiles. . . . It's also the first book about videogames that non-gamers can actually enjoy."
—Entertainment Weekly
 
"A master prose stylist, the erudite Bissell is frequently insightful."
—The Boston Globe
 
"For anyone who has spent a weekend thrilled by the prospect of beating a game, Extra Lives will cast the addiction in a new, cerebral light."
—The Washington Post
 
"Bissell, a whip-smart writer, is engrossed by the new artistic and narratological possibilities that video gaming opens up to us, and his prose is never dry or academic—rather, it's sweetly personal, and always engaging, even as it pushes its readers to reconsider gaming's lowbrow status."
—Time Out New York
 
"A fascinating book. . . . Extra Lives is like taking a private tour at a very exclusive museum, filled with lost masterpieces you never knew existed. You may not find yourself becoming a collector, but you won't soon forget the experience."
—San Francisco Chronicle
 
"Fantastic . . . I wish, someday, to play a game that will stay with me as long as this book about games."
—Farhad Manjoo, Slate
 
"Extra Lives is the first truly indispensable work of literary nonfiction about society's most lucrative entertainment medium. Bissell's commentary is marvelously astute and his enthusiasm for videogames beams through every inch of text."
—Paste
 
"An important, relentlessly perceptive book. . . . Bissell proves that it's possible to ruminate on the past, present, and future of video games in a way that is both intellectually rigorous and consistently entertaining."
—San Francisco Bay Guardian
 
"Full of surprisingly penetrating analysis of the real-life skills video games actually test and develop. . . . Bissell moves analysis of video games to the next level. . . . [Extra Lives] should help usher in a widespread, much more serious consideration of how video games have taken up permanent residence in our increasingly screen-based world."
—The Plain Dealer
 
"Bissell is a serious and seriously good writer. . . . The video game industry now pockets more of our money than do its counterparts in music and movies, but you'd never know it from glancing at a newspaper or magazine, where Nashville and Hollywood still get far more profiles, business items, and, of course, reviews. Extra Lives is, among other things, a wonderful example of how and why this imbalance might be fixed."
—The Christian Science Monitor
 
"For gamers . . . Extra Lives offers some much-needed smart talk about a medium ripe for a paradigm shift."
—Richmond Times-Dispatch
 
"Bissell's style has been compared to that of a young Hemingway. So had Hemingway spent way too much time playing World of Warcraft and Fallout 3 on Xbox . . . he might've come up with something like Extra Lives. Ostensibly a work of criticism and attempt to answer what a video game is, the book is also an ode to Bissell's love-hate relationship with a maddening, invigorating new art form."
—The Village Voice