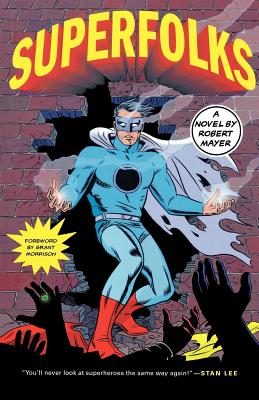 Superfolks
A Novel
Paperback

* Individual store prices may vary.
Description
Before there was WATCHMEN, there was SUPERFOLKS....
David Brinkley used to be a hero, the greatest the world had ever seen--until he retired, got married, moved to the suburbs, and packed on a few extra pounds. Now all the heroes are dead or missing, and his beloved New York is on the edge of chaos. It's up to Brinkley to come to the rescue, but he's in the midst of a serious mid-life crisis--his superpowers are failing him.
At long last this classic satire that inspired comic books like Watchmen and Miracleman is back in print. It's a hilarious thriller that digs deep into the American psyche.
Praise For Superfolks: A Novel…
"What if you were a superhero going through a mid-life crisis? Your tights are in a bunch. You've lost your hair. Your powers have a mind of their own... You'll never look at superheroes the same way again!" —Stan Lee, comic legend and creator of Spiderman, X-Men, and The Fantastic Four
"What Robert Mayer has done, and done with real aplomb, is carry off a smart satire and a very funny novel while at the same time caring enough about his characters that the reader's investment is respected and paid dividends. Without being derivative, it reminds me of early Vonnegut--Vonnegut through Cat's Cradle--as well as the first couple of the Hitchhiker's Guide. It's always satisfying when an influential but neglected work--in any genre, in any field--is "rediscovered" and given its proper credit." —Tom de Haven, author of Funny Papers, Derby Dugan's Depression Funnies, and Dugan Under Ground
"Superfolks is an irreverent look behind the mask of superheroes wrapped up in a cutting lampoon of late 70's attitudes." —Paul Dini, writer and producer of Batman: The Animated Series
"Superfolks was the book that showed me you could do more with superheroes than adolescent power fantasies. Without Superfolks I doubt there'd have been an Astro City." —Kurt Busiek, Multiple Eisner Award-Winning Creator of Astro City
"...sharp, funny, and ultimately moving, with a plot that could be the R-rated version of the current hit movie The Incredibles... a cult novel that inspired a generation of comic book writers and anticipated books like The Fortress of Solitude and The Amazing Adventures of Kavalier and Clay. " —Kirkus
"Infectiously funny." —Los Angeles Magazine
"It is gorgeous. It is splendid. It is funny as hell... He writes like an angel." —Newsday
St. Martin's Griffin, 9780312339920, 240pp.
Publication Date: March 9, 2005
About the Author
Robert Mayer (1939-2019) is an award-winning journalist and writer. Mayer covered New York City for Newsday for many years, bufore moving to New Mexico. During a mid-life crisis, he got in touch with his inner superhero and created Superfolks, his first novel, which was originally published in 1977.