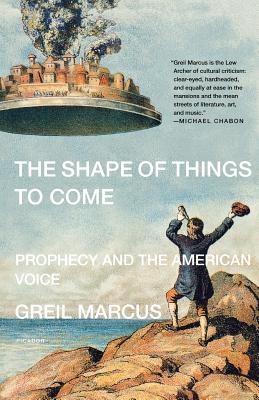 The Shape of Things to Come
Prophecy and the American Voice
Paperback

* Individual store prices may vary.
Other Editions of This Title:
Hardcover (9/5/2006)
Description
A New York Times Book Review Editors' Choice


A San Francisco Chronicle Best Book of the Year


A London Times Literary Supplement Best Book of the Year

In this exhilarating and kaleidoscopic investigation of American identity, Greil Marcus traces the nation's fable of self invention from its earliest Puritan beginnings to its successive retellings in the work of diverse contemporary artists. Marcus considers the birth of America as a New Jerusalem, a place of promises so vast that they could only be betrayed--and how from that betrayal emerged the nation's prophetic voice, the voice that calls America's citizens to self-judgment. Over the course of our history, Marcus finds that the prophetic voice has sounded less and less in the political realm--where it can be heard in the words of John Winthrop, Abraham Lincoln, and Martin Luther King, Jr.--and more in the work of individual artists, including Philip Roth, David Lynch, Sinclair Lewis, John Dos Passos, David Thomas of Pere Ubu, Allen Ginsberg, the band Heavens to Betsy, Bill Pullman, and Sheryl Lee.

In The Shape of Things to Come, the past and the present merge in the most extraordinary and surprising ways. Greil Marcus presents a stirring, and frightening, portrait of our country, our ideals, and ourselves.
Praise For The Shape of Things to Come: Prophecy and the American Voice…
"Ranging as he does from Monica Lewinsky to David Lynch, Lou Reed back to Philip Roth, the Pixies to Pere Ubu, the great cultural critic Greil Marcus suggests in The Shape of Things to Come that in the USA, artists rather than politicians truly have the measure of the country." —Paul Muldoon, Pulitzer Prize–winning author of Horse Latitudes

"A pirate radio station broadcasting late at night from the heart of the lost republic." —D. D. Guttenplan, The Times Literary Supplement (London)

"There are wonders on nearly every page, connections made and broken between history and pop culture, and always there is Marcus's gift for summoning up an entire phenomenon in a single sentence." —Ken Tucker, Entertainment Weekly

"Like Lipstick Traces, this book is an impossible fever dream- conversation, in which Abraham Lincoln, Sleater-Kinney, obscure bluesmen, old punks, characters from 24, Sinclair Lewis, and Martin Luther King Jr. speak to each other on some frequency that only Marcus can transcribe. The cacophony is in us, and in such scary times it's imperative that we listen." —Frances Reade, San Francisco Weekly

"His writing is cool, vivid, fixated--and you see what he sees. . . . I will commit myself: this book is brilliant. Frightening, exciting, sickening. It brings you alive as an American." —Devin McKinney, The American Prospect
Picador, 9780312426422, 336pp.
Publication Date: August 21, 2007
About the Author
Greil Marcus is the author of Mystery Train (1975), Lipstick Traces (1989), The Old, Weird America (1997; 2001) and Double Trouble (2000).