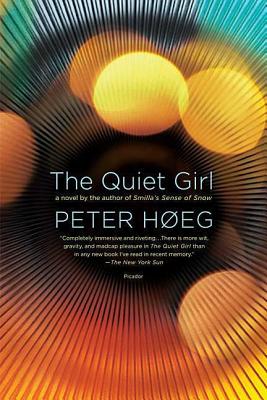 The Quiet Girl
A Novel
Paperback

* Individual store prices may vary.
Other Editions of This Title:
Digital Audiobook (10/29/2007)
Description
The internationally acclaimed bestselling author of Smilla's Sense of Snow returns with this "engrossing, beautifully written tale of suspense . . . captivating" (The Miami Herald).

Set in Denmark in the here and now, Peter Hoeg's The Quiet Girl centers around Kaspar Krone, a world-renowned circus clown with a deep love for the music of Johan Sebastian Bach, and an even deeper gambling debt. Wanted for tax evasion and on the verge of extradition, Krone is drafted into the service of a mysterious order of nuns who promise him reprieve from the international authorities in return for his help safeguarding a group of children with mystical abilities -- abilities that Krone also shares.

When one of the children goes missing, Krone sets off to find the young girl and bring her back, making a shocking series of discoveries along the way about her identity and the true intentions of his young wards. The result is a fast-paced, philosophical thriller blending social realism with the literary fantastic and pitting art and spirituality against corporate interests and nothing less than the will to war by the industrialized world.

The Quiet Girl is a masterful, inventive novel that marks the triumphal return of one of the great writers of the international literary world.
Praise For The Quiet Girl: A Novel…
"Høeg writes prose that is both changeable and deep-fathomed as poetry . . . [it]demands to be read aloud and savored." —The New Yorker on Smilla's Sense of Snow

"Completely immersive and riveting . . . There is more wit, gravity, and madcap pleasure in The Quiet Girl than in any new book I've read in recent memory." —The New York Sun

"Treat The Quiet Girl as a thriller, and you'll sprint happily to its unexpected and enigmatic ending. Treat the novel as a love story, and you may be surprised by the deep silence of its final pages." —The Washington Post

"Høeg's writing is jewel-encrusted. . . . This is writing that sparkles to distract from its deep philosophical aspects." —Los Angeles Times

"Slyly compelling, the story unfolds at breakneck speed." —Chicago Sun-Times

"Extraordinary . . . There is no more morally (and imaginatively) engaged novelist writing today." —Newsday

"Hoeg is a notable prose writer because of his lyrical style which recalls the best passages of Fitzgerald or Mailer - poetic and layered, this is symphony for the senses...masterfully read by James Gale..." —The Electric Review

"Author Peter Høeg's latest novel is beautifully read by narrator James Gale. His rich tone and classical delivery are the perfect fit for this vivid and haunting story. There is a certain theatrical aspect at work here, as Gale knows exactly when and where to emphasize for effect and never pushes himself over the edge. His tone is gritty and firm in a steady performance that will capture the imaginations in its gentility and genuine approach. Gale provides the listener with all of the tools necessary to believe every word he reads. Innately likable and honestly performed, Høeg's novel is a moving experience." —AudioFile
Picador, 9780312427771, 432pp.
Publication Date: September 30, 2008
About the Author
Peter Høeg, born in 1957 in Denmark, pursued various interests—dancer, actor, sailor, fencer, and mountaineer—before turning seriously to writing. His work has been published in 33 countries. The Quiet Girl is his fifth novel. Høeg writes prose that is both changeable and as deep-fathomed as poetry...[It] demands to be read aloud and savored.—The New Yorker on Smilla's Sense of Snow