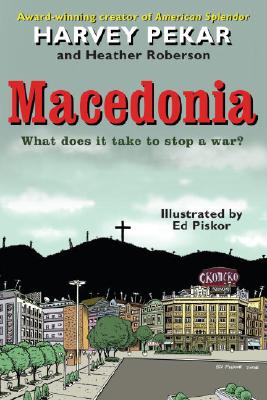 Macedonia
What Does It Take to Stop a War?
Paperback

* Individual store prices may vary.
Description
"Pekar has proven that comics can address the ambiguities of daily living, that like the finest fiction, they can hold a mirror up to life."
–The New York Times

For years Heather Roberson, a passionate peace activist, has argued that war can always be avoided. But she has repeatedly faced counterarguments that fighting is an inescapable consequence of world conflicts. Indeed, Heather finds proving her point to be a little tricky without examples to bolster her case. So she does something a little crazy: She sets out for far-off Macedonia, a landlocked country north of Greece and west of Bulgaria, to explore a region that has edged–repeatedly–close to the brink of violence, only to refrain.

In the process–and as vividly portrayed by the talented duo of Harvey Pekar and Ed Piskor–Heather is tangled in red tape, ripped off by cabdrivers and hotel clerks, hit on by creepy guys, secretly photographed, and mistaken for a spy. She also creates unlikely friendships, learns that getting lost means seeing something new, and makes some startling discoveries. War is hell and peace is difficult–but conflict is always necessary.

"Harvey Pekar wrestles the kind of things most comic book heroes wouldn't touch with a laser blaster."
–Cleveland Plain Dealer

"A visit with Harvey Pekar . . . will cause you to reexamine your own life . . . just as the greatest literature will."
–The Austin Chronicle

"Pekar lets all of life flood into his panels: the humdrum and the heroic, the gritty and the grand."
–The New York Times Book Review
Villard, 9780345498991, 176pp.
Publication Date: June 26, 2007
About the Author
Harvey Pekar, a native of Cleveland, was best known for his autobiographical slice-of-life comic book series American Splendor, a first-person account of his downtrodden life. He was also a jazz critic whose reviews were published in the Boston Herald, the Austin Chronicle, and Jazz Times. He did freelance work for the critically acclaimed radio station WKSU and appeared many times on Late Night with David Letterman.

Heather Roberson is an American peace activist and author. She is the coauthor and protagonist of Macedonia: What Does It Take to Stop a War? Roberson is a special advisor at CIVIL, a Macedonia-based war-prevention organization, and a codirector of ACT NOW, a New York–based political organization.

Ed Piskor is a cartoon artist, illustrator, and author. He illustrated two graphic books by Harvey Pekar, Macedonia and The Beats, and is the author and illustrator of the Hip Hop Family Tree comic book series.
or
Not Currently Available for Direct Purchase