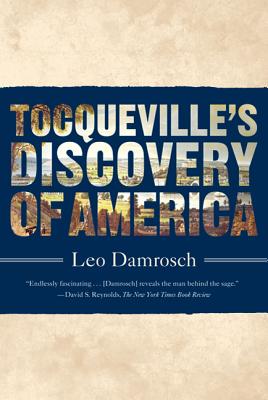 Tocqueville's Discovery of America
Paperback

* Individual store prices may vary.
Other Editions of This Title:
Hardcover (4/12/2011)
Description
Alexis de Tocqueville is more quoted than read; commentators across the political spectrum invoke him as an oracle who defined America and its democracy for all times. But in fact his masterpiece, Democracy in America, was the product of a young man's open-minded experience of America at a time of rapid change. In Tocqueville's Discovery of America, the prizewinning biographer Leo Damrosch retraces Tocqueville's nine-month journey through the young nation in 1831–32, illuminating how his enduring ideas were born of imaginative interchange with America and Americans, and painting a vivid picture of Jacksonian America.
Damrosch shows that Tocqueville found much to admire in the dynamism of American society and in its egalitarian ideals. But he was offended by the ethos of grasping materialism and was convinced that the institution of slavery was bound to give rise to a tragic civil war.
Drawing on documents and letters that have never before appeared in English, as well as on a wide range of scholarship, Tocqueville's Discovery of America brings the man, his ideas, and his world to startling life.
Praise For Tocqueville's Discovery of America…
"Tocqueville's Discovery of America is lively, always interesting, and oftne touching. It also fills a gap in the literature that was deliberately created by Tocqueville himself." —Alan Ryan, The New York Review of Books
"[A] scintillating new book . . . Remarkably, given the excitements and reach of Tocqueville's nine-month American trip, it is seventy years since the last full account of the itinerary. Leo Damrosch is well qualified to do the renovation. A distinguished specialist of eighteenth-century literature at Harvard . . . he is deeply familiar with Tocqueville's literary and intellectual contexts . . . Damrosch contagiously enjoys himself, and happily enters into the enthusiasms of the two young Frenchmen, as they let the strange, loud, free, placeless society disturb and excite them." —James Wood, The New Yorker
"Leo Damrosch has provided a perfect accompaniment to [Democracy in America] . . . This lovely book ought to delight those who already love Tocqueville's great work, for showing how it came to be. But it can also serve as a fine introduction for those just coming to Democracy in America." —Keith Monroe, The Virginian-Pilot
"Damrosch is an acute observer of Tocqueville." —David S. Reynolds, The New York Times Book Review
"In Tocqueville's Discovery of America, Leo Damrosch, who teaches literature at Harvard, has seized an opportune moment to scratch the polished surface and explore what lay behind the oracular pronouncements. At a time when generalizations about the American soul seem risky at best, it is somehow reassuring to learn that even the great Tocqueville was often winging it . . . Rather than rely on the book published years after his return to France, as most scholars do, Damrosch draws on the letters Tocqueville wrote home to friends and family, as well as various unpublished notes he took during his trip. The material gives a life and freshness often absent from drier academic tomes." —François Furstenberg, Slate
"Leo Damrosch narrates [Tocqueville and Beaumont's] journey through salons and saloons, the beautiful Hudson River Valley and the trackless Wisconsin forest, clouds of merciless mosquitoes and flocks of gorgeous parrots . . . The result is neither another biography of Tocqueville . . . nor another study of 'Democracy in America,' but rather a genial and colorful portrait, on a modest scale, of an astonishing young country and the likeable young man who first interpreted it to Europe." —George Scialabba, The Boston Globe
"In 1831, Tocqueville and his fellow French aristocrat Gustave de Beaumont traversed a burgeoning, teeming America in the grip of territorial expansion and commercial explosion . . . The author traces this journey, familiar to readers of Tocqueville but always wonderfully entertaining, while lending his own astute observations . . . Damrosch effectively demonstrates why Tocqueville proved 'a superb interpreter of American culture.' " —Kirkus Reviews
"[Damrosch] presents an insightful update to Alexis de Tocqueville's 1831 tour of young America . . . Insightful and sometimes witty, [Tocqueville's Discovery of America] is a useful companion for all who are reading Tocqueville or want to learn more about him." —Robert Moore, Library Journal
"[Damrosch] constructs a lively narrative of [Tocqueville and Beaumont's] eye-opening journey. Their arduous travel; their reactions to Americans' informality; their foiled flirtations with young women--de Tocqueville and de Beaumont entertained their folks in France with these experiences, which Damrosch weaves into a flowing account." —Gilbert Taylor, Booklist
"This entirely fresh book, about one of the most fateful, significant and profound journeys ever taken in modern times, is lavishly readable and compelling and illuminating." —Jeff Simon, The Buffalo News
"Helping to humanize as well as historicize the young Tocqueville while he was discovering America is the main achievement of Damrosch's concise and absorbing new book . . . [It] ought to make a more nuanced appreciation of both the man and his great work accessible to a wide readership . . . The human young Tocqueville is much more impressive than the cold abstraction, and for helping to bring him to life we are in Leo Damrosch's debt." —Sean Wilentz, The American Prospect
"Leo Damrosch applies the perspective and strengths of an outstanding literary scholar to narrating Alexis de Tocqueville's famous visit to the United States--its motives and outcome along with its daily course. Damrosch places Tocqueville's famous book about America securely in its French context and enriches our understanding with fascinating personal insights. The reader's pleasure is enhanced by the many charming illustrations." —Daniel Walker Howe, Pulitzer Prize–winning author of What Hath God Wrought: The Transformation of America, 1815–1848
"In this deft and original book, Leo Damrosch helps us rediscover Tocqueville and the nation the Frenchman chronicled so brilliantly and enduringly. What Tocqueville found in Jacksonian America resonates anew in our own time, and Damrosch's engaging account of a world at once remote and familiar is invaluable--and entertaining." —Jon Meacham, Pulitzer Prize-winning author of American Lion
Farrar, Straus and Giroux, 9780374532598, 304pp.
Publication Date: April 12, 2011
About the Author
Leo Damrosch is the Ernest Bernbaum Professor of Literature at Harvard University. He is the author of several works, including Jean-Jacques Rousseau: Restless Genius, a finalist for the 2005 National Book Award in nonfiction.