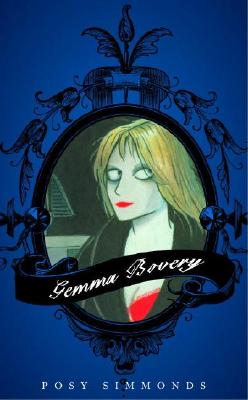 Gemma Bovery
Hardcover

* Individual store prices may vary.
Description
It a coincidence that Gemma Bovery has a name rather like Flaubert's notorious heroine? Is it by chance that, like Madame Bovary, Gemma is bored, adulterous, and a bad credit risk? Is she inevitably doomed?

Gemma is the pretty second wife of Charlie Bovery, the reluctant stepmother of his children, and the bête noire of his ex-wife. A sudden windfall and Gemma's distaste for London take them across the Channel to
Normandy, where the charms of French country living soon wear off.

Gemma's neighbor, the intellectual baker Joubert, is consumed by fascination for her. Denying voyeurism but nonetheless noting every change in the fit of Gemma's jeans, every addition to her wardrobe, all of her love bites and lovers, Joubert——with the help of the heroine's diaries——follows her path toward ruin.

Adultery and its consequences. Disappointment and deception. Fat and slim. Then and now. Familiar ingredients of the novel are given new life in Gemma Bovery's unique graphic form.
Praise For Gemma Bovery…
"A delightfully clever satire on British yuppies and contemporary mores. . . combining large passages of text with amusing line drawings and uproarious comic strips sequences. Ms. Simmonds's drawings completely embody the tone of this book: bemused affection for her characters combined with delicately barbed sarcasm and fresh, cheeky, wit." --Michiko Kakutani, The New York Times

"Be prepared to laugh for days on end. This is a masterpiece of visual wit, subversion, and terrible honesty, with Posy Simmonds's cartoon hand matched only by her prose."
––Elizabeth Buchan, The Times (London)

"Hilarious . . . Gemma Bovery deliciously exploits Posy Simmonds's talent for observing, in words and pictures, the absurdities of life among the aspiring metropolitan middle class at home and abroad."
––Lisa Jardine, The Times (London)

"Gemma Bovery is an original masterpiece. Posy Simmonds's brilliant drawings and perfect ear for speech make every page pure pleasure."
––Chris Woodhead, The Sunday Telegraph

"Posy Simmonds has found witty contemporary equivalents for Flaubert's characters, plot, irony, and even literary devices, and much of the fun of reading about Gemma is decoding the parallels . . . Simmonds makes her cartoon characters three-dimensional and creates a Flaubertian ironic compassion for their suffering and stumbling."
––Elaine Showalter, The Observer
Pantheon, 9780375423390, 112pp.
Publication Date: February 1, 2005
or
Not Currently Available for Direct Purchase