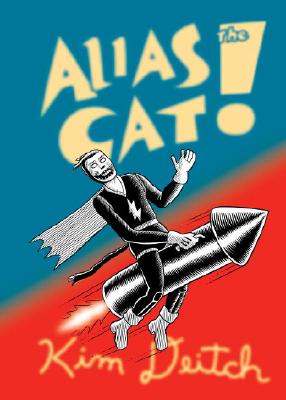 Alias the Cat!
He Dared to Save a World
Hardcover

* Individual store prices may vary.
Description
At the center of the novel Kim Deitch deftly places himself and his wife Pam-a passionate collector of Halloween cats from the 1920s and 30s, whose collection is impressive to say the least. But when she buys a mysterious old cat costume, she and Kim find themselves in wholly new territory: the lost world of Alias the Cat who, in 1915, appeared not only in a comic strip and film serial, but in real life as a freedom-fighting superhero.
When Kim begins to research this forgotten figure, he uncovers one almost unbelievable story after another: about the Furries, a tiny subculture of people who dress up as cartoon animals in order to have sex; about Keller and Frankie, two seamen stranded on a Pacific island, forced to make cat toys to appease the natives; about the secret lover of Alias's alter ego, Malek Janochek; and, of course, about Deitch's own Waldo the Cat, the common thread weaving the stories together as Kim and Pam move toward a fateful showdown in Midgetville...New Jersey, of course.
"Alias the Cat" is Kim Deitch at his eye-catching, mind-bending best.
Praise For Alias the Cat!: He Dared to Save a World…
Praise for The Boulevard of Broken Dreams

"You've got to read Boulevard in one sitting. And it is well worth the effort, not only because the three chapters are so brilliantly conceived, paced, and written, but also because the drawing is virtuoso."
–Eye Magazine

"What is particularly impressive is the way that Deitch juggles the personal and the cultural dimensions of his narrative: his book is just as much about the neutering and Disneyfication of animation as it is about the self-destructiveness of genius."
–The New York Times Book Review

"After thirty-five years, it's about time Kim Deitch gets his due. The rich ideas and beautiful cartooning of Boulevard of Broken Dreams should be just the work to do it. While Deitch likes to explore the seamy adult world behind the delightful veneer of kiddy pop culture, the book's central theme becomes the transporting power of great Art–even in the form of a cartoon. In the final pages, a tour de force wherein Deitch mixes three different planes of cartoon storytelling, the normally malevolent Walso has the final say: 'Not bad. Not bad at all.'"
–Time.com

Pantheon Books, 9780375424311, 136pp.
Publication Date: April 17, 2007
About the Author
Kim Deitch was a seminal figure in the Underground Comix movement in the 1960s, and over the last 30 years he has worked non-stop, his comix appearing in "Raw, LA Weekly, Weirdo, Heavy Metal, "and "Nickelodeon Magazine" among many other publications. He and Pam live in Manhattan, with their two cats (actual, real ones).
or
Not Currently Available for Direct Purchase