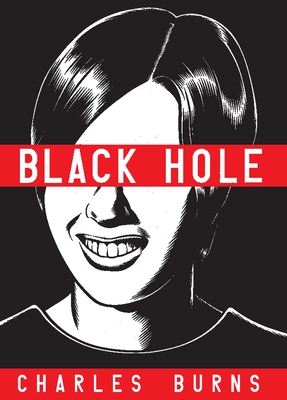 Black Hole (Pantheon Graphic Library)
Paperback

* Individual store prices may vary.
Description
Winner of the Eisner, Harvey, and Ignatz Awards

The setting: suburban Seattle, the mid-1970s. We learn from the outset that a strange plague has descended upon the area's teenagers, transmitted by sexual contact. The disease is manifested in any number of ways — from the hideously grotesque to the subtle (and concealable) — but once you've got it, that's it. There's no turning back.

As we inhabit the heads of several key characters — some kids who have it, some who don't, some who are about to get it — what unfolds isn't the expected battle to fight the plague, or bring heightened awareness to it , or even to treat it. What we become witness to instead is a fascinating and eerie portrait of the nature of high school alienation itself — the savagery, the cruelty, the relentless anxiety and ennui, the longing for escape.

And then the murders start.

As hypnotically beautiful as it is horrifying, Black Hole transcends its genre by deftly exploring a specific American cultural moment in flux and the kids who are caught in it- back when it wasn't exactly cool to be a hippie anymore, but Bowie was still just a little too weird.

To say nothing of sprouting horns and molting your skin…
Praise For Black Hole (Pantheon Graphic Library)…
Winner of the Eisner, Harvey, and Ignatz Awards

"Smoldering brilliant... What Burns does so memorably here is blend the erotic and the frightening to create a black hole the reader will want to visit again and again."
--The Boston Globe

"The best graphic novel of the year... One of the most stunning graphic novels yet published."
--Time

"Black Hole is Burns's masterwork."
--The New York Times Book Review

"Surreal and unnerving... A remarkable work."
--Chicago Sun-Times

Pantheon, 9780375714726, 368pp.
Publication Date: January 8, 2008
About the Author
Charles Burns grew up in Seattle in the 1970s. His work rose to prominence in Art Spiegelman's Raw magazine in the mid-1980s and took off from there, in an extraordinary range of comics and projects, from Iggy Pop album covers to the latest ad campaign for Altoids. In 1992 he designed the set for Mark Morris's delightful restaging of The Nutcracker (renamed The Hard Nut) at BAM. He's illustrated covers for Time, The New Yorker, and The New York Times Magazine. He was also tapped as the official cover artist for The Believer magazine at its inception in 2003. Burns lives in Philadelphia with his wife and two daughters.
or
Not Currently Available for Direct Purchase