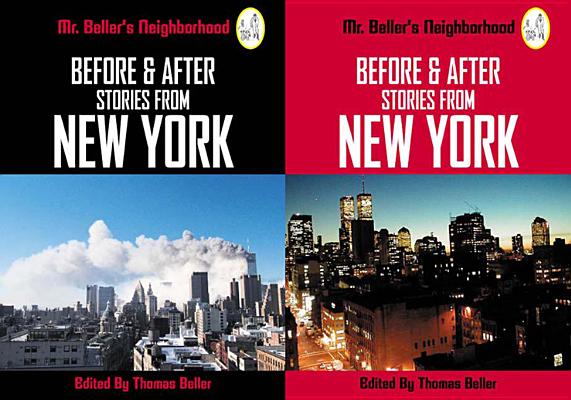 Before and After (Paperback)
Stories from New York (Mr. Beller's Neighborhood)
Mister Beller's Neighborhood, 9780393323535, 224pp.
Publication Date: February 17, 2002
* Individual store prices may vary.
Description
True stories about New York before and after September 11—written by the people for whom the city is the stage set for their lives.
Some of the voices to be found in its pages are those of well known writers—Michael Cunningham, Jeannette Winterson, Phillip Lopate, Luc Sante, Megan Daum, Sam Lipsyte, Thomas Beller—and many more are from people who may not even consider themselves writers, but who were tempted by the "Tell Mr. Beller A Story" button on the critically acclaimed website, mrbellersneighborhood.com, where all these pieces originally appeared. Taken together these essays, reportage, and vignettes are a testament to the vitality, diversity, and complexity of New York City at the turn of the century. A version of this book was in production in early September 2001. After September 11th the web site was flooded with pieces by people who wanted to testify to their survival, to bear record of their witness, and to comprehend. Some of the material in the "After" section is as stark and immediate as the photojournalism from that day. And some posses a wisdom and humanity that is an essential part of moving beyond the events of 9/11. This single volume is in effect two books, with two covers, a "before" and an "after," with a separate introduction for each. It is a powerful document of its time, and, with its vivid and insightful writing, it is also news that will stay news, sometime that will remain an engrossing read long after the events described have receded into the past.
"Brief and memorable epitomes of the urban encounter: a transporting collection. "—
Kirkus Reviews
"The quality of these pieces is consistently high, and they feel authentic throughout."—
Publishers Weekly
"
Before and After: Stories From New York
vividly captures the fissure of a place suddenly and utterly transformed... It's hard to imagine a more appropriate or more moving collection of voices."—
San Francisco Chronicle
"The essays are gorgeous, alternately sad and funny...[a] richly human collection."—
Portland Mercury
"Its 60+ stories are all tightly wound and cleanly written... they're emotionally engaging, they're clear, they're direct... It's a heartbreaker of a book."—
Flakmag.com
About the Author
Thomas Beller is the author of Seduction Theory, The Sleep-Over Artist and How to Be a Man. He is a founder and editor of Open City magazine and Mr. Beller's Neighborhood.com. He lives in New York City and New Orleans.
or
Not Currently Available for Direct Purchase