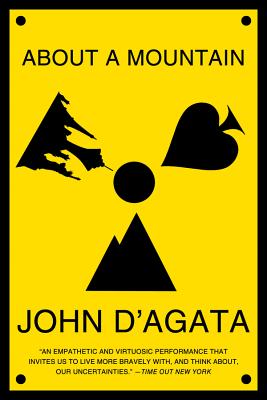 About a Mountain
Paperback

* Individual store prices may vary.
Description
Named One of the 100 Best Nonfiction Books Written by the New York Times Magazine, a Publishers Weekly Best Book of the Year, and a New York Times Editors' Choice.
When John D'Agata helps his mother move to Las Vegas one summer, he begins to follow a story about the federal government's plan to store nuclear waste at Yucca Mountain; the result is a startling portrait that compels a reexamination of the future of human life.
Praise For About a Mountain…
Unquestionably art, a breathtaking piece of writing.
— Charles Bock - New York Times Book Review

Exquisite…This is what, at its best, contemporary narrative nonfiction aspires to, a story that, like the novel, operates on many levels at once. And in About a Mountain D'Agata has found a nearly perfect nexus to investigate our post-millennial concerns.

— David L. Ulin - Los Angeles Times

Transcendant…This is an empathetic and virtuosic performance that invites us to live more bravely with, and to think about, our uncertainties.
— Time Out New York

What started as a book about a mountain changes into a book about Las Vegas and suicide and signs and language and death, and it reads like a wonderful and free-flowing improvisation…Our writer has a nearly inhuman depth of perception, and readers can take hope from how, in the face of his uncertainty, D'Agata puts his fine improvisational mind to work, where meaning dissolves into nothingness, where low ceilings are protection from God, where suicides occur by the dozen, where cakes are the size of football fields, and where language is as porous and corrosive as that damn mountain.
— Kevin Evers - The Rumpus

Here is the literary essay raised to the highest form of art.
— Ben Marcus

About a Mountain is about language, catastrophe, communication, impending destruction, and death, but like most great books, these aspects add up to something much larger. Despite its subtle surface, the book has a sensibility and style that emit their own radiation. D'Agata tells his story with such poise and precision that it not only reveals the fragility of words and human life—it possesses the power to pull us in and change the way we think.

— Blake Butler - Bookforum

The book's connections dawn on you like a reverberating rhyme in a poem.
— Boston Globe

About a Mountain is as fact-laden as any John McPhee book, but where McPhee works to clarify domains of fact generally understood only by experts, D'Agata focuses on the insufficiency of facts as vehicles for understanding contemporary reality. He draws our attention to the conflicts and gaps in expert opinion and to the terminal slipperiness of facts…and the end result is one of the most convincing metaphors for contemporary American reality that I have come across in any recent piece of writing.

— Mark Lane - Quarterly Conversation

A beautiful embodiment of what is a central principle of great nonfiction: it's not remotely about what it purports to be about.
— David Shields - The Millions

Utterly amazing.
— Nick Flynn
W. W. Norton & Company, 9780393339017, 240pp.
Publication Date: February 7, 2011
About the Author
John D'Agata is the author of About a Mountain, Halls of Fame, and editor of The Next American Essay and The Lost Origins of the Essay. He teaches creative writing at the University of Iowa in Iowa City, where he lives.