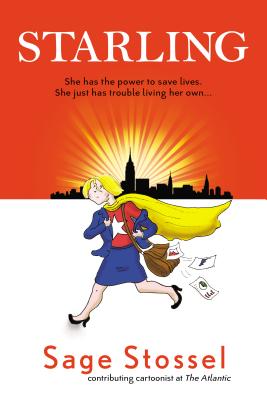 Starling (Paperback)
Inklit, 9780425266311, 208pp.
Publication Date: December 3, 2013
* Individual store prices may vary.
or
Not Currently Available for Direct Purchase
Description
POWERLESS?
For Amy Sturgess, life in the big city comes with even bigger problems. Her marketing career is being derailed by a conniving coworker stealing her accounts. Her family crises range from her down-and-out brother running afoul of the law to her mother's growing affections for the house cats. And Amy's love life just flatlined thanks to an unexpected reunion with the one that got away who's now engaged.
When Xanax and therapy fail to relieve her stress, Amy does what any young woman in her position would do: She uses her superstrength, speed, flight, and ability to generate 750 volts from her hands to fight crime as the mysterious masked vigilante Starling. But while Starling is hailed as a superhero, will Amy remain a super-zero?
About the Author
Sage Stossel is a contributingcartoonist at "The Atlantic," drawing the cartoon feature "Sage, " "Ink," and is the author of the children s book "On the Loose in Boston." She is also a regular contributor to "The Boston Globe" and "Provincetown Banner," for which she received an award in 2009 from the New England Newspaper & Press Association. Her cartoons have been featured by "The New York Times" Week in Review, CNN Headline News, CartoonArts International / "The New York Times Syndicate," and "Best Editorial Cartoons of the Year "(2005, 2006, 2009, and 2010 editions)."
Advertisement