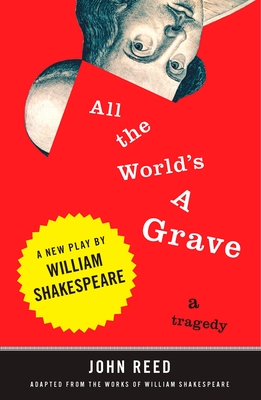 All the World's a Grave
A New Play by William Shakespeare
Paperback

* Individual store prices may vary.
Description
An epic tragedy of love, war, murder, and madness, plucked from the pages of Shakespeare

In All the World's a Grave, John Reed reconstructs the works of William Shakespeare into a new five-act tragedy. The language is Shakespeare's, but the drama that unfolds is as fresh as the blood on the stage.

Prince Hamlet goes to war for Juliet, the daughter of King Lear. Having captured Juliet as his bride—by reckless war—he returns home to find that his mother has murdered his father and married Macbeth. Enter Iago, who persuades Hamlet that Juliet is having an affair with Romeo. As the Prince goes mad with jealousy, King Lear mounts his army. . .

This play promises to be the most provocative and entertaining work to be added to the Shakespeare canon since Tom Stoppard's Rosencrantz and Guildenstern Are Dead.
Praise For All the World's a Grave: A New Play by William Shakespeare…
"What a dramatic re-imagination is herein offered us!"—Richard Foreman
 
"The literary Trick of the Year!"—New York Post
 
"A shrewd, gutsy remix that brings the conscience of Shakespeare to our troubled time."—Spalding Gray 
 
"An inspired bit of bricolage... fascinating and entertaining. Reed clearly loves the Bard. His pastiche contains many of Shakespeare's best passages, which are always a delight to reread. More impressive, though, Reed fashions from this familiar material a story containing enough surprises to delight even those well versed in the Bard."—Jack Helbig, Booklist 
 
"What's destabilizing—and often wildly comical—is not just the rude mash-up of characters and settings violently plucked from their canonical sources but the way in which the power of Shakespeare's language flickers uneasily, surging and hissing and fizzing out only to revive and fade again as the words play against their new contexts."—Christianity Today, Favorite Books of 2008
 
"Reed's performance (classical post-Modernism, I guess you could call it) turned out to be a fabulously imaginative reinvention of existing Shakespearean plays into a completely new one, like a chemistry experiment re-linking polymers into new fabric… wonderfully clear, sophisticated fun."—Allan Jalon, Huffington Post
 
"Reed caramelizes the Bard's plays into a great and terrifying world... a dizzying feat of writing and scholarship, and uncannily contemporary in its brew of constant trouble."—Lynne Tillman
 
"Reed has brought music's remix culture to literature with stunning results."—David Gutowski, largehearted boy
 
"Alerted the world to a timbre of postmodern genius never before seen in American letters."—Rami Shamir, Evergreen Review
 
"A wicked illusionist."—Los Angeles Journal
 
"This send-up of the bard is both new yet familiar; by using a literary form of montage, Reed plays with our understanding of some of the best known characters from Shakespeare's oeuvre and creates a work that is eerie in its timeliness."—Finn Harvor, Rain Taxi
Plume, 9780452289864, 208pp.
Publication Date: August 26, 2008
About the Author
John Reed is the author of the novels A Still Small Voice, The Whole, Snowball's Chance, All The World's A Grave: A New Play by William Shakespeare, Tales of Woe, and Free Boat: Collected Lies and Love Poems. He is a two-term member of the board of directors of the National Book Critics Circle, and a professor of creative writing at the New School.
or
Not Currently Available for Direct Purchase