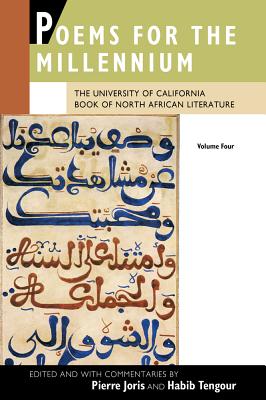 Poems for the Millennium, Volume Four
The University of California Book of North African Literature
Paperback

* Individual store prices may vary.
Other Editions of This Title:
Hardcover (1/31/2013)
Description
In this fourth volume of the landmark Poems for the Millennium series, Pierre Joris and Habib Tengour present a comprehensive anthology of the written and oral literatures of the Maghreb, the region of North Africa that spans the modern nation states of Libya, Tunisia, Algeria, Morocco, and Mauritania, and including a section on the influential Arabo-Berber and Jewish literary culture of Al-Andalus, which flourished in Spain between the ninth and fifteenth centuries. Beginning with the earliest pictograms and rock drawings and ending with the work of the current generation of post-independence and diasporic writers, this volume takes in a range of cultures and voices, including Berber, Phoenician, Jewish, Roman, Vandal, Arab, Ottoman, and French. Though concentrating on oral and written poetry and narratives, the book also draws on historical and geographical treatises, philosophical and esoteric traditions, song lyrics, and current prose experiments. These selections are arranged in five chronological "diwans" or chapters, which are interrupted by a series of "books" that supply extra detail, giving context or covering specific cultural areas in concentrated fashion. The selections are contextualized by a general introduction that situates the importance of this little-known culture area and individual commentaries for nearly each author.
Praise For Poems for the Millennium, Volume Four: The University of California Book of North African Literature…
"This book is the most important contribution to world literature for this year. . . . Every page shocks with different energy."
— Grace Cavalieri

"With ingenious translations and informative commentaries, Joris and Tengour . . make palpable that this region is a wellspring of the culture we value in the West. In so doing, they restore to us missing parts of the 'cradle' of our civilization."
— Charles Bernstein

"A 'must own' item."
— Silliman's Blog

"Their book comes at a time when there are a slew of English titles published on the Arab world, but unlike the majority of them, this volume actually encourages cultural appreciation. I could wax rhapsodic about these poems for months."
— Alexis Coe

"This is a magisterial effort by two absolutely serious and accomplished poet-scholars. It is an important addition to the Poems for the Millennium series and significant in its own right, both expanding and complicating notions of the modern by introducing us to many writers we might not otherwise encounter."
— Brooke Horvath
University of California Press, 9780520273856, 792pp.
Publication Date: January 31, 2013
About the Author
Pierre Joris is a Professor of English at SUNY, Albany and an acclaimed translator and editor. as well as the author of many books of poetry. He is coeditor of UC Press's highly successful first two volumes in the Poems for the Millennium series.

Habib Tengour is a poet, editor, translator, anthropologist, and novelist. He is editor of Œuvres poétiques complètes de Mohammed Dib.