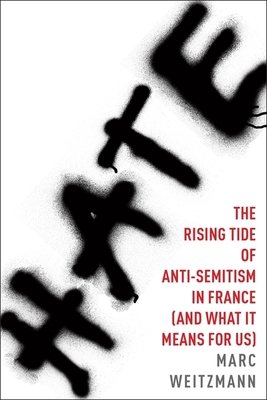 Hate (Hardcover)
The Rising Tide of Anti-Semitism in France (and What It Means for Us)
Houghton Mifflin Harcourt, 9780544649644, 320pp.
Publication Date: March 12, 2019
Other Editions of This Title:
MP3 CD (8/20/2019)
* Individual store prices may vary.
Description
From an award‑winning journalist, a provocative, deeply reported exposé of the history and present crisis of anti‑Semitism in France—and its dire message for the rest of the world.
 
What is the connection between a rise in the number of random attacks against Jews on the streets of France and strategically planned terrorist acts targeting the French population at large? Before the attacks on Charlie Hebdo, the Bataclan night club, and others made international headlines, Marc Weitzmann had noticed a surge of seemingly random acts of violence against the Jews of France. His disturbing and eye-opening new book, Hate, proposes that both the small-scale and large-scale acts of violence have their roots in not one, but two very specific forms of populism: an extreme and violent ethos of hate spread among the Muslim post-colonial suburban developments on the one hand, and the deeply-rooted French ultra-conservatism of the far right. Weitzmann's shrewd on-the-ground reporting is woven throughout with the history surrounding the legacies of the French Revolution, the Holocaust, and Gaulist "Arab-French policy."
 
Hate is a chilling and important account that shows how the rebirth of French Anti-Semitism relates to the new global terror wave, revealing France to be a veritable localized laboratory for a global phenomenon.
About the Author
MARC WEITZMANN began his career as a journalist in the early 1980s, working with weekly magazine Sans Frontière (Without Borders), the first publication to specialize in migrant workers issues in France. After traveling and living in Brazil he returned to France to become chief editor of the literary section of Les Inrockuptibles, interviewing writers such as Saul Bellow, Don DeLillo, Philip Roth, Edna O'Brien, and V. S. Naipaul. In the early 2000s he began to travel to Israel to write extensive reports on the situation there. He published his first novel, Enquête, with Actes Sud in 1996. He has published ten books since: seven novels, two travel accounts, and a book of essays. He has been a fellow at the McDowell colony in New Hampshire, and is now a regular contributor to Le Monde's literary supplement. He lives in Paris.
Praise For Hate: The Rising Tide of Anti-Semitism in France (and What It Means for Us)…
A New York Times Book Review Editors' Choice
A Finalist for the American Library in Paris Book Award 
A Publishers Marketplace Buzz Book

"[An] excellent and chilling report-cum-memoir about one of the most unsettling phenomena in contemporary Europe."
—James Kirchick, Wall Street Journal

"Weitzmann's excellent book is a stellar focus upon the major influences producing an increase in anti-Semitism in France during the past 30 years. Thanks to the author's careful research, Hate is more than an analysis of recent anti-Semitic attacks. It has become a signpost, signaling where terrorists might strike next...The author's research is spot on and relevant. His writing is swift, vital and enlightening."
—New York Journal of Books 

"[Hate has] an often illuminating intensity as it grapples with an unresolved French and European quandary...Cleareyed."
—Roger Cohen, New York Times Book Review  

"Timely and richly reported, Hate is an investigation of the cross-pollination and convergence of the dominant anti-modern, anti-democratic forces shaping twenty-first century society and politics: far-right nationalism and Islamism. Cutting across conventional categories of left and right, to put a surge of violent anti-Semitism in France in deep historical, cultural and intellectual perspective, Weitzmann's absorbing reckoning carries urgent lessons and warnings for us all."
—Philip Gourevitch, author of We Wish to Inform You that Tomorrow We Will Be Killed With Our Families

"Fascinating and passionate."
—Robert Siegel, Moment Magazine 

"A disturbing account that connects the rebirth of French anti-Semitism to global terror. His narrative brings together history, intellectual issues and local reporting."
—New York Jewish Week 

"I am in profound disagreement with the main argument of this brilliant, despairing book. And yet despite that I believe it to be essential reading, especially for those who, like me, will ultimately remain unpersuaded by it. Because of course Marc Weitzmann may be right, and if he is then we will not be able to say we were not warned! 'Read it and weep' is too often a cliché but not here. For Hate is both a magnificent piece of writing and a prosecutor's brief—passionate, learned, and analytical at once, and as such a worthy descendant of the greatest of French 20th century polemics such Émile Zola's J'Accuse, Julien Benda's The Treason of the Intellectuals, and above all Marc Bloch's A Strange Defeat."
—David Rieff, author of In Praise of Forgetting: Historical Memory and Its Ironies

"Hate is that rare book that will make even those who feel they know the subject reconsider it entirely. Alternating cool analysis and shoe-leather reporting, Weitzmann reveals the strands of a conspiracy that is nearly two centuries in the making. In a tale of lies and betrayals worthy of a Balzac novel, Hate begins with a forgotten 19th century orientalist plotter, whose attraction to Islam was its potential to blow up modernity, and follows the poison down through the last century to our own moment. Though it is uncomfortable to read about the darkness overcoming the City of Light, all those who care about France, Jews, East-West relations, and, indeed, our entire modern culture, must read this book."
—Tom Reiss, Pulitzer Prize-winning author of The Black Count and The Orientalist