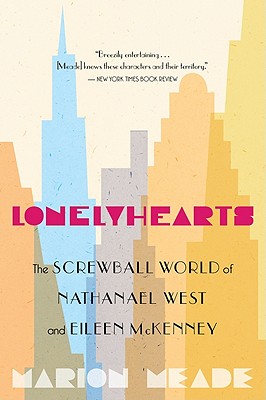 Lonelyhearts
The Screwball World of Nathanael West and Eileen McKenney
Paperback

* Individual store prices may vary.
Other Editions of This Title:
MP3 CD (8/30/2016)
Description
Nathanael West was a comic artist whose insight into the brutalities and absurdities of modern life proved prophetic. He is famous for two masterpieces, Miss Lonelyhearts and the most penetrating novel ever written about Hollywood, The Day of the Locust. Eileen McKenney, accidental muse and literary heroine, fled Cleveland in search of romance and adventure, inspiring her sister's humorous stories, My Sister Eileen, which led to stage, film, and television adaptations.

Until their tragic deaths in 1940, husband and wife were intimate with many of the literary, theatrical, and movie notables of the era, and in this dual biography, they provide a one-of-a-kind lens into a world that continues to capture artists' imaginations. With trenchant insight and erudite charm, acclaimed biographer Marion Meade restores the star-crossed lovers to their rightful places in the rich cultural tapestry of interwar America and paints a lively tableau of one of the country's most engrossing eras.

Mariner Books, 9780547386386, 432pp.
Publication Date: March 10, 2011
About the Author
MARION MEADE is the author of Dorothy Parker: What Fresh Hell Is This? and Bobbed Hair and Bathtub Gin: Writers Running Wild in the Twenties. She has also written biographies of Woody Allen, Buster Keaton, Eleanor of Aquitaine, Madame Blavatsky, and Victoria Woodhull, as well as two novels about medieval France.