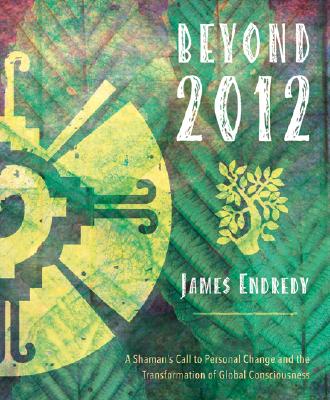 Beyond 2012
A Shaman's Call to Personal Change and the Transformation of Global Consciousness
Paperback

* Individual store prices may vary.
Description
James Endredy, noted writer, teacher, and practitioner of shamanism, offers a unique perspective on 2012—a message of genuine hope for humankind. According to Endredy, "every human being can be a shrine of love, an altar of hope" during this time of shifting global consciousness and radical change. 
In this one-of-a-kind guide, Endredy consults the "First Shamans," Fire Spirit Tataiwari (Grandfather Fire) and Earth Spirit Nakawé (Grandmother Growth) for wisdom and guidance. Tataiwari and Nakawé reveal how the evolution of human consciousness, sustaining the earth, and our personal happiness and well-being are all connected. Beyond 2012 offers a wealth of practical ways for each of us to personally help spark the transformation of human consciousness. Learn how your positive actions—reciprocity, compassion, love, and respect for the essences and energies that sustain life on our world—can help save the planet. —Awaken your "luminous" True Self by entering non-ordinary states of consciousness—Plant the seeds of transformation in global human consciousness —Amplify positive energy by building altars and making offerings —Reclaim, raise, and wisely use personal energy —Use a sacred calendar to gain a new understanding of the nature of time and    our role as co-creators 
Praise: "A must-have book for customers interested in ecology and shamanic spirituality."—NEW AGE RETAILER
Llewellyn Publications, 9780738711584, 220pp.
Publication Date: February 8, 2008
About the Author
James Endredy is a teacher, mentor, and guide to thousands of people through his books and workshops. After a series of life tragedies and mystical experiences as a teenager he changed direction from his Catholic upbringing and embarked on a life-long spiritual journey to encounter the mysteries of life and death and why we are all here. For over twenty-five years he has learned shamanic practices from all over the globe, while also studying with kawiteros, lamas, siddhas, roadmen, and leaders in the modern fields of ecopsychology, bioregionalism, and sustainable living. James also worked for ten years with Mexican shamanic researcher Victor Sanchez learning to share shamanic practices with modern people. On a daily level, his experiences have inspired him to live a sustainable lifestyle as much as possible while still working within mainstream society. He writes, leads workshops, mentors private clients, visits schools and community centers, speaks at bookstores, and volunteers in his community. His books have thus far been published in four languages and include Ecoshamanism, Shamanism for Beginners, and Beyond 2012.
or
Not Currently Available for Direct Purchase