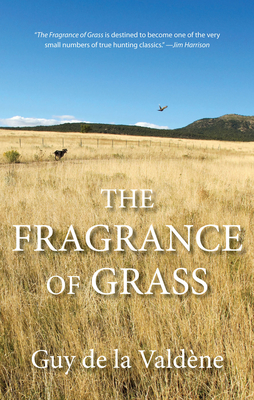 Fragrance of Grass
Paperback

* Individual store prices may vary.
Description
An ode to one man's enduring love affair with hunting, The Fragrance of Grass stands as a testament to Guy de la Valdene's deep affection for and abiding respect of the natural work and all its inhabitants. Set in places as far afield as France and Montana, Saskatchewan and Florida, this beautifully written memoir is a treatise on dogs, birds, and wildlife; food, wine, and women.The Fragrance of Grass is suffused with la Valdene's appreciation for and understanding of natural history along with his vast knowledge of centuries-old hunting traditions. It is a walk through the decades of memories of fields and birds, friends and dogs that will be treasured by all true sportsmen.
Praise For Fragrance of Grass…
"Guy de la Valdene's memoir, The Fragrance of Grass, soars like a condor high above the arid landscape of our era's largely flimsy, narrow and shallow sporting books. It is an extraordinary stew of poignant reflections, deeply felt sentiment and sensitive introspection having equal measures of pride and regret. Time and again there is demonstrated a fearless willingness to stare deeply into the human conscience while the whole is sewn together with absolutely impeccable language. In my view, this may well be the defining masterpiece of this genre in our time."
                                                           -Russell Chatham
The love of hunting and the love of animals  in cultivated people gives rise to a
 sometimes rueful, sometimes triumphant intensity of spirit which has rarely been
 so well expressed as in Guy de la Valdene's book.  Few have had as wide an
 opportunity--so unpretentiously expressed--to find out what drives, rewards and
 worries us about hunting.
                                                          -Thomas McGuane  Valdene's wondrous field memoir is a rich sportsman's miscellany -- memorable and
 erudite fowling lore, camp etiquette, ballistics, poaching ethics, glorious anecdote,
 bloody ducks, persistent bawdiness, and better wine than  you or I'll ever drink --
 all elegantly spun as an affectionate and sentimental education of loss and renewal. It's
 a terrific book.     
                                                         - Richard Ford 
"The Fragrance of Grass is an exquisite, big-hearted celebration of a life grandly spent outdoors. Any novelist who'd try to invent a character like Guy de La Valdene would be doomed to fall short. He is a unique philosopher- scoundrel with a wise, gentle heart, and he writes like a dream.
                                                           --Carl Hiaasen
 THE FRAGRANCE OF GRASS is destined to become one of the very small
 number of true hunting classics. Valdene's writing is lovely indeed and the book is fresh,
 direct and utterly original.
                                                         - Jim Harrison Capturing Proust and honoring both Thoreau and Hemingway,  Guy de la Valdene has carved out a new and delightful voice in American beauty both for outdoorsman and mere observers alike.   The recipes for a seasoned hunter's delight in the joys of his life are inspirational and delicious and the succulent prose a true pleasure to savour, morsel after morsel.  This is quite simply the most tasty, satisfying and fascinating ragout that I  have tasted in years.
                                                           - Mario Batali 
You won't find a living writer who knows more than Guy de la Valdene on his three favorite subjects: birds on the wing, birds on the table, and the short, happy lives of bird dogs. And in crisply lyrical prose, his memoir confronts the haunting question of whether the beauty of the hunt can ever justify its savagery.
                                                            -- Howell Raines
 "La Valdène lyrically recounts a rugged lifetime fortified by the land, offering . . . resonant and beautifully written memories of his time in the fields. . . . Savory recipes close out the author's light, lovingly crafted fare. A compact, delightful feast for the senses."
                                                            -Kirkus Reviews "His view of hunting is, at its deepest level, a joyous melancholy meditation on life and death."                                                            -Chris Camuto, Gray's Sporting Journal
Lyons Press, 9780762779772, 226pp.
Publication Date: October 23, 2012