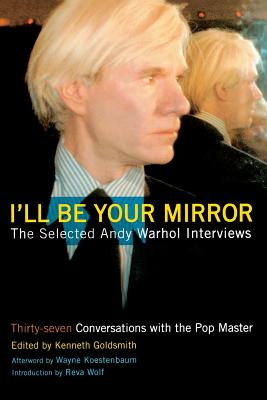 I'll Be Your Mirror (Paperback)
The Selected Andy Warhol Interviews
Da Capo Press, 9780786713646, 320pp.
Publication Date: July 7, 2004
* Individual store prices may vary.
Description
The Question-and-Answer interview was one of Andy Warhol's favorite communication vehicles, so much so that he named his own magazine after the form. Yet, never before has anyone published a collection of interviews that Warhol himself gave. I'll Be Your Mirror contains more then thirty conversations revealing this unique and important artist. Each piece presents a different facet of the Sphinx-like Warhol's ever-evolving personality. Writer Kenneth Goldsmith provides context and provenance for each selection. Beginning in 1962 with a notorious interview in which Warhol literally begs the interviewer to put words into his mouth, the book covers Warhol's most important artistic period during the '60s. As Warhol shifts to filmmaking in the '70s, this collection explores his emergence as socialite, scene-maker, and trendsetter; his influential Interview magazine; and the Studio 54 scene. In the 80s, his support of young artists like Jean-Michel Basquait, his perspective on art history and the growing relationship to technology in his work are shown. Finally, his return to religious imagery and spirituality are available in an interview conducted just months before his death. Including photographs and previous unpublished interviews, this collage of Warhol showcases the artist's ability to manipulate, captivate, and enrich American culture.
About the Author
Kenneth Goldsmith's writing has been called some of the most "exhaustive and beautiful collage work yet produced in poetry" by Publishers Weekly. The author of seven books and editor of the online journal UbuWeb, Goldsmith is also a music writer for New York Press and host of weekly radio show on New York City's WFMU. He lives in New York City.