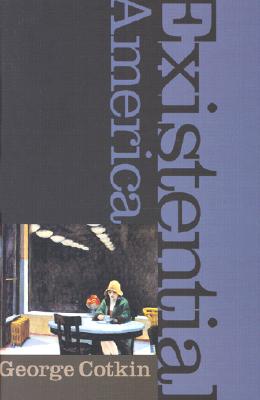 Existential America (Hardcover)
Johns Hopkins University Press, 9780801870378, 368pp.
Publication Date: January 24, 2003
Other Editions of This Title:
Paperback (4/29/2005)
* Individual store prices may vary.
Description
Europe's leading existential thinkers--Jean-Paul Sartre, Simone de Beauvoir, and Albert Camus--all felt that Americans were too self-confident and shallow to accept their philosophy of responsibility, choice, and the absurd. "There is no pessimism in America regarding human nature and social organization," Sartre remarked in 1950, while Beauvoir wrote that Americans had no "feeling for sin and for remorse" and Camus derided American materialism and optimism. Existentialism, however, enjoyed rapid, widespread, and enduring popularity among Americans. No less than their European counterparts, American intellectuals participated in the conversation of existentialism. In Existential America, historian George Cotkin argues that the existential approach to life, marked by vexing despair and dauntless commitment in the face of uncertainty, has deep American roots and helps to define the United States in the twentieth-century in ways that have never been fully realized or appreciated.
As Cotkin shows, not only did Americans readily take to existentialism, but they were already heirs to a rich tradition of thinkers--from Jonathan Edwards and Herman Melville to Emily Dickinson and William James--who had wrestled with the problems of existence and the contingency of the world long before Sartre and his colleagues. After introducing this concept of an American existential tradition, Cotkin examines how formal existentialism first arrived in America in the 1930s through discussion of Kierkegaard and the early vogue among New York intellectuals for the works of Sartre, Beauvoir, and Camus. Cotkin then traces the evolution of existentialism in America: its adoption by Richard Wright and Ralph Ellison to help articulate the African-American experience; its expression in the works of Norman Mailer and photographer Robert Frank; its incorporation into the tenets of the feminist and radical student movements of the 1960s; and its lingering presence in contemporary American thought and popular culture, particularly in such films as Crimes and Misdemeanors, Fight Club and American Beauty.
The only full-length study of existentialism in America, this highly engaging and original work provides an invaluable guide to the history of American culture since the end of the Second World War.
About the Author
George Cotkin is a professor of history at California Polytechnic State University in San Luis Obispo. He is the author of Reluctant Modernism: American Thought and Culture, 1880-1900 and William James, Public Philosopher, the latter published by Johns Hopkins.
or
Not Currently Available for Direct Purchase