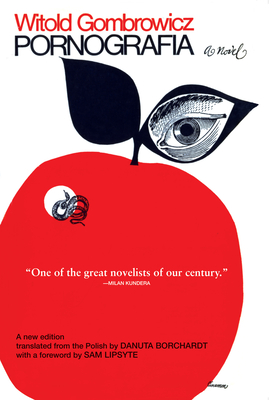 Pornografia
Paperback

* Individual store prices may vary.
Description
The place is Poland, in the early years of the German occupation. Pornografia's narrator, an author named Witold Gombrowicz, meets a swarthy and overly formal man named Fyderyk at a Warsaw house party, and the two soon become engaged in a business of a dubious (if not downright criminal) nature. When an acquaintance of theirs, a corpulent provincial landowner named Hipolit, requests that they come stay with him to discuss some of his city affairs, it is not hard to convince them to leave the claustrophobic city for the fresh air of the countryside. Once in the country, however, Fryderyk and Witold quickly bore of their surroundings -- all of their surroundings, that is, but the two teenagers who are staying on Hipolit's farm: Henia, Hipolit's daughter; and Karol, the son of one of the farmhands, who has just returned from a stint in the Polish resistance movement. Both sixteen years old, they have known each other all their lives, and interact as naturally and indifferently as siblings. Witold, however, begins to obsess over their budding sexuality, and imposes on their every interaction an erotic twist that leaves him half-crazed with voyeuristic lust. He is convinced that Karol and Henia must go to bed with each other, and it soon becomes apparent that Fryderyk has the same idea; as their time at the farm progresses, both men turn seemingly innocent interactions with the two teenagers into a sort of erotic chess game. Small pretenses for contact between the young folks -- pointing out that Karol's pant cuffs are dragging in the dirt, for instance, and asking Henia to roll them up for him -- become fantastic acts pregnant with innuendo and possibility. The fact that Henia is engaged to a respectable (if dandyish) older man only makes the game more interesting. Communicating his intentions to Witold through a series of letters left under a brick near the farm's edge, Fryderyk begins to slowly undermine Henia's engagement. He tells the teenagers that he is directing a play, and asks them to mimic a slightly suggestive scene for him -- and then arranges for Witold to bring Henia's fiance, Vaclav, nearby at the most provocative moment. Vaclav of course misinterprets what he sees, and begins to sink into paranoia and suspicion of his young bride-to-be. Two incidents of violence temporarily disrupt Witold and Fryderyk's games. First, Vaclav's mother is stabbed to death by a young thief in front of all the farm's residents. The tragedy leaves Vaclav even more unstable, and everyone involved shaken. The second situation arises when a senior commander in the resistance named Siemian comes to stay at the farm for a few days. Karol has served with him, and snaps to attention immediately. Not long after Siemian arrives, Hipolit receives a distressing order from the local underground authorities; Siemian has lost his nerve and wants to leave the resistance. His high position makes this simply too compromising, and Hipolit has been commanded to murder his houseguest. Hipolit enlists the help of his other male guests, but none of them -- Witold, Fryderyk, or Vaclav -- can bring themselves to kill the man. Then Fryderyk stumbles upon an outrageous idea: he will manipulate Karol and Henia, and get them to perform the murder themselves. Sure enough, the two teens are obedient, just as they have been when Henia rolled up Karol's pant cuffs or when they performed a scene from a nonexistent play. The men give the teens a knife (much like the one which killed Vaclav's mother), and instruct them to enter Siemian's room and finish him off. But something goes very wrong. Vaclav, who has been growing more and more unstable and disconsolate over what he thinks is a love affair between Henia and Karol, has entered Siemian's room before the two teenagers, and murdered the commander himself. He then darkened the room and waited. When the teens knock, Vaclav opens the door -- and Karol, mistaking Vaclav for Siemien, murders him. The narrator's frivolous mind games are suddenly made very real, and as the book ends they are, for the first time, and in their moment of catastrophe, brought closer than ever before to their young pawns.
Grove Press, 9780802145130, 248pp.
Publication Date: October 12, 2010
About the Author
Born in Poland in 1904, Witold Gombrowicz moved to Argentina just before the outbreak of the Second World War and lived there, virtually unknown, writing novels, short stories, and plays before taking up residence in France. His death in 1969 was a great loss not only for Polish literature but for the world of letters. Writer, translator, and retired psychiatrist Danuta Borchardt has also translated Witold Gombrowicz's novels Ferdydurke and Cosmos. Her short stories have been published in Exquisite Corpse.