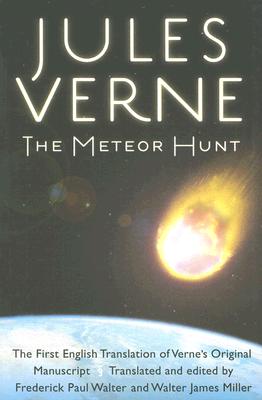 The Meteor Hunt
The First English Translation of Verne's Original Manuscript (Bison Frontiers of Imagination )
Paperback

* Individual store prices may vary.
Other Editions of This Title:
Hardcover (10/1/2006)
Description
The Meteor Hunt marks the first English translation from Jules Verne's own text of his delightfully satirical and visionary novel. While other, questionable versions of the novel have appeared—mainly, a significantly altered text by Verne's son Michel and translations of it—this edition showcases the original work as Verne wrote it. The Meteor Hunt is the story of a meteor of pure gold careening toward the earth and generating competitive greed among amateur astronomers and chaos among nations obsessed with the trajectory of the great golden object. Set primarily in the United States and offering a humorous critique of the American way of life, The Meteor Hunt is finally given due critical treatment in the translators' foreword, detailed annotations, and afterword, which clearly establish the historical, political, scientific, and literary context and importance of this long-obscured, genre-blending masterpiece in its true form.
Bison Books, 9780803296343, 232pp.
Publication Date: October 1, 2006
About the Author
Jules Verne (1828–1905) was born in the French seaport town of Nantes. He is the author of many classics of science fiction and adventure, including 20,000 Leagues under the Sea, From the Earth to the Moon, and Around the World in Eighty Days. Frederick Paul Walter is an adult services librarian in Albuquerque and vice president of the North American Jules Verne Society. He cotranslated and coedited (with Walter James Miller) Jules Verne's "20,000 Leagues under the Sea": The Completely Restored and Annotated Edition. Walter James Miller is an emeritus professor of English in the School of Continuing and Professional Studies at New York University. He translated and edited The Annotated Jules Verne: From the Earth to the Moon.