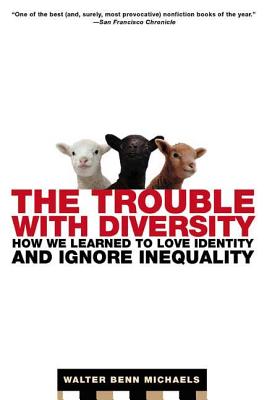 The Trouble with Diversity
How We Learned to Love Identity and Ignore Inequality
Paperback

* Individual store prices may vary.
Other Editions of This Title:
Paperback (6/14/2016)
Hardcover (10/3/2006)
Description
"A withering examination of how the celebration of cultural and ethnic difference obscures our yawning economic divide . . . This is a refreshing, angry, and important book." —The Atlantic Monthly
Acclaimed as "eloquent" (Chicago Tribune), "cogent" (The New Yorker), and "impossible to disagree with" (The Washington Post); excoriated as a "wildly implausible" product of "the 'shock and awe' school of political argument" (Slate), The Trouble with Diversity argues that our enthusiastic celebration of "difference" masks our neglect of the difference that really matters—the one between rich and poor. A magnificent skewer of pieties, Walter Benn Michaels takes on the many manifestations of our devotion—from affirmative action, to the worship of multiculturalism, to the obsession with heritage and identity—demonstrating that diversity offers a false vision of social justice, one that conveniently costs us nothing. In a daring break with both the left and the right, he calls for less attention to the illusory distinction of culture and more attention to the real discrepancies of class and wealth.
Praise For The Trouble with Diversity: How We Learned to Love Identity and Ignore Inequality…
"This is a different line, and there's a touch of genius about it." —The Economist.com
"Cogent... certain to be controversial." —The New Yorker
"Eloquent" —The Chicago Tribune
"Rarely have I found myself more in agreement with a book's conclusion. To focus so obsessively on questions of diversity is, as Michaels rightly asserts, to opt for a politics of symbolism over a politics of results." —Slate
"Bracing... the greatest virtue of The Trouble With Diversity is the tenacity and precision with which Michaels dissects out muddled ideas about race and inequality." —The Nation
Holt Paperbacks, 9780805083316, 256pp.
Publication Date: July 24, 2007
About the Author
Walter Benn Michaels is a professor of English at the University of Illinois at Chicago. "One of the most influential Americanists of his generation" (The Chronicle of Higher Education), he is the author of Our America and has contributed to The New York Times Magazine, The Boston Globe, and n+1. He lives in Chicago.
or
Not Currently Available for Direct Purchase