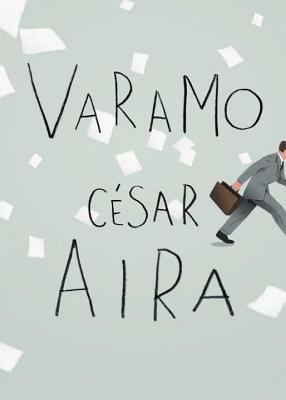 Varamo
Paperback

* Individual store prices may vary.
Description
The surprising, magnificent story of a Panamanian government employee who, one day, after a series of troubles, writes the celebrated masterwork of modern Central American poetry.
Unmistakably the work of César Aira,
Varamo
is about the day in the life of a hapless government employee who, after wandering around all night after being paid by the Ministry in counterfeit money, eventually writes the most celebrated masterwork of modern Central American poetry,
The Song of the Virgin Boy
. What is odd is that, at fifty years old, Varamo "hadn't previously written one sole verse, nor had it ever occurred to him to write one."
Among other things, this novella is an ironic allegory of the poet's vocation and inspiration, the subtlety of artistic genius, and our need to give literature an historic, national, psychological, and aesthetic context. But Aira goes further still — converting the ironic allegory into a formidable parody of the expectations that all narrative texts generate — by laying out the pathos of a man who between one night and the following morning is touched by genius. Once again Aira surprises us with his unclassifiable fiction: original and enjoyable, worthy of many a thoughtful chuckle,
Varamo
invites the reader to become an accomplice in the author's irresistible game.
Praise For Varamo…
An avant-garde literature that combines the impossible with the real, a literature in which every statement of fact suggests its opposite and even casual observations and plot twists are turned upside down.
— Michael Greenburg - The New York Review of Books

Varamo, like all the Aira books in translation, is charming and infuriating, built of plain prose that blooms without warning into carbuncular visions.

— Ben Raliff - The New York Times Book Review

Aira's prose can be slapdash, but the book teems with delightful, off-the-cuff metaphysical speculation.
— The New Yorker

Aira's literary significance, like that of many other science fiction
writers, comes from how he pushes us to question the porous line between
fact and fantasy, to see it not only as malleable in history, but also
blurred in the everyday. The engrossing power of his work, though, comes
from how he carries out these feats: with the inexhaustible energy and
pleasure of a child chasing after imaginary enemies in the park.
— Los Angeles Review of Books

The book is structured around a series of chance encounters, while also giving Aira some asides on broader concepts like the nature of perception, the promises of narrative form, and human thought.
— Publishers Weekly

The novel, in enacting the criticism it mocks, is playful and clever.
— The Rumpus

The latest English translation in Aira's enormous corpus, Varamo accommodates his fondness for mixing metaphysics, realism, pulp fiction, and an attention to the raw strangeness of life's ordinary details... The eccentricity of plot here is its own pleasure, but the slow, carefully written digressions it enfolds are what make the work such extravagant fun.

— Alice Whitwam - Coffin Factory

Each element Aira draws our attention to is placed into sharp focus before being discussed in short, entertaining digressions. If anything, the book implies a distrust of the very notion of plot, a comfort with play, and that is why I feel it grasps something of value. Once again Aira has given us a series of memorable, highly interpretable images held together by gossamer strings of meaning.
— The National

Slim, cerebral, witty, fanciful, and idiosyncratic.
— Boston Review

With a light, almost hypnotic style, Aira creates an intriguing balance between realism and comedic absurdity.
— Critical Mob

The overriding impression of Varamo is one of facility that dips periodically into facileness. Aira encounters the elements of his story as Varamo stumbles upon his masterpiece, by chance, as objets trouvés, and enjoyable as it is to see each pulled in turn from the hat, even a short novel built on such a principle can't help but demonstrate the principle's limits. Flaubert, the presiding genius of literature as sealed artifact, once claimed that he took such endless pains with his style precisely because was not naturally gifted with words. Aira is a manifestly gifted writer who may find writing all too easy a job.

— Quarterly Conversation
New Directions, 9780811217415, 144pp.
Publication Date: February 22, 2012
About the Author
CÉSAR AIRA
was born in Coronel Pringles, Argentina in 1949, and has lived in Buenos Aires since 1967. He taught at the University of Buenos Aires (about Copi and Rimbaud) and at the University of Rosario (Constructivism and Mallarmé), and has translated and edited books from France, England, Italy, Brazil, Spain, Mexico, and Venezuela. Perhaps one of the most prolific writers in Argentina, and certainly one of the most talked about in Latin America, Aira has published more than 100 books to date in Argentina, Mexico, Colombia, Venezuela, Chile, and Spain, which have been translated for France, Great Britain, Italy, Brazil, Portugal, Greece, Austria, Romania, Russia, and the United States. One novel,
La prueba
, has been made into a feature film, and
How I Became a Nun
was chosen as one of Argentina's ten best books. Besides essays and novels Aira writes regularly for the Spanish newspaper
El País
. In addition to winning the 2021 Formentor Prize, he has received a Guggenheim scholarship, and was shortlisted for the Rómulo Gallegos prize and the Booker International Prize.
Chris Andrews
was born in Newcastle, Australia, in 1962. He studied at the University of Melbourne and taught there, in the French program, from 1995 to 2008. He also taught at the University of Western Sydney, where he was a member of the Writing and Society Research Center. As well as translating nine books by Roberto Bolano and ten books (and counting) by César Aira, he also brought the French author Kaouther Adimi's
Our Riches
into English for New Directions. Andrews has won the Valle-Inclán Prize and the French-American Foundation Translation Prize for his translations. Additionally, he has published the critical studies
Poetry and Cosmogony: Science in the Writing of Queneau and Ponge
and
Roberto Bolano's Fiction: An Expanding Universe
as well as two collections of poems,
Cut Lunch
and
Lime Green Chair
, for which he won the Anthony Hecht Poetry Prize.
or
Not Currently Available for Direct Purchase