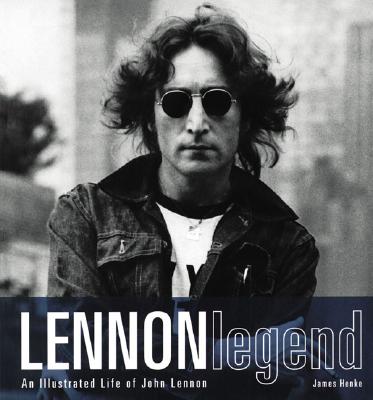 Lennon Legend
An Illustrated Life of John Lennon
Hardcover

* Individual store prices may vary.
Description
Presented in a handsome slipcase, Lennon Legend is both an illustrated and an interactive biography of the creative genius - songwriter, artist, social activist - who changed his times. Created with the cooperation of Yoko Ono Lennon, who has opened her archives for this project, the book offers insightful details about every era of John's life, from his early days at art school to the height of Beatlemania to "Imagine." A live recording of that song is included, along with several interviews of John talking about his life and art, on the audio CD contained in this package. Throughout, the book features archival photographs and reproductions of John's handwritten song lyrics, drawings, memorabilia, and personal papers. In all, 40 removable facsimiles can be enjoyed by the reader, several previously unpublished, including an intimate self-portrait in pen and ink and a plea for world peace. It's been said that John Lennon's was the voice of a generation. Lennon Legend celebrates that voice's power to resonate across the generations.
Praise For Lennon Legend: An Illustrated Life of John Lennon…
"He has too many of the wrong ambitions and his energy is too often misplaced," wrote the headmaster on John Lennon's report card in the summer of 1956, when Lennon was fifteen. We can agree with the headmaster only insofar as the young Lennon planned to devote his life to skiffle music. But once he devoted himself to rock & roll, he and the other Beatles overthrew the world.
Literally hundreds of books have been written about Lennon, so why would you spend forty dollars on a sixty-four-page volume? The text, by Rock & Roll Hall of Fame curator (and former Rolling Stone editor) James Henke, is fluid and well-researched -- but Legend was produced with help from the Lennon estate, so don't expect any album to be referred to as anything less than a triumph, except by implication, when the next one is a "return to form."
The book shines by including dozens of reproduced items from Lennon's life and career, stuck into pockets throughout; reading Legend is like flipping through a sophisticated pop-up book for Beatles fans. Some of the inventory: handwritten lyrics to "Imagine," Beatles bubblegum cards circa 1963, and a full-page 1979 ad he and Yoko Ono took out in the New York Times to explain why they had seemingly disappeared from public life. There's also an hour-long CD of Lennon interviews. Best of all the reproductions is the Daily Howl, Lennon's handmade schoolboy newspaper, filled with cartoons and humor such as "Our late editor is dead, he died of death, which killed him." This volume captures some of the ephemeral whimsy and genius of Lennon's life. -Rolling Stone Magazine
Chronicle Books, 9780811835176, 64pp.
Publication Date: September 1, 2003
About the Author
James Henke is vice-president of exhibitions and curatorial affairs of The Rock and Roll Hall of Fame in Cleveland, Ohio. For 16 years he was a writer and editor at Rolling Stone magazine. He has also written and edited several books on rock and roll.
or
Not Currently Available for Direct Purchase