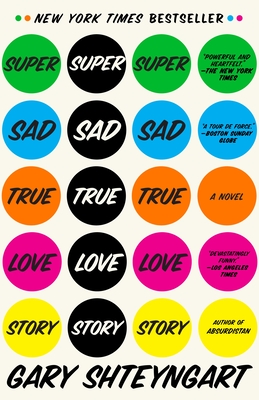 Super Sad True Love Story
A Novel
Paperback

* Individual store prices may vary.
Other Editions of This Title:
Digital Audiobook (7/26/2010)
Description
NEW YORK TIMES BESTSELLER • A deliciously dark tale of America's dysfunctional coming years—and the timeless and tender feelings that just might bring us back from the brink.

NAMED ONE OF THE BEST BOOKS OF THE YEAR BY
The New York Times • The Washington Post • The Boston Globe • San Francisco Chronicle • The Seattle Times • O: The Oprah Magazine • Maureen Corrigan, NPR • Salon • Slate • Minneapolis Star Tribune • St. Louis Post-Dispatch • The Kansas City Star • Charlotte Observer • The Globe and Mail • Vancouver Sun • Montreal Gazette • Kirkus Reviews

In the near future, America is crushed by a financial crisis and our patient Chinese creditors may just be ready to foreclose on the whole mess. Then Lenny Abramov, son of an Russian immigrant janitor and ardent fan of "printed, bound media artifacts" (aka books), meets Eunice Park, an impossibly cute Korean American woman with a major in Images and a minor in Assertiveness. Could falling in love redeem a planet falling apart?
Praise For Super Sad True Love Story: A Novel…
"Gary Shteyngart's wonderful new novel, Super Sad True Love Story, is a supersad, superfunny, superaffecting performance — a book that not only showcases the ebullient satiric gifts…but that also uncovers his abilities to write deeply and movingly about love and loss and mortality. It's a novel that gives us a cutting comic portrait of a futuristic America, nearly ungovernable and perched on the abyss of fiscal collapse, and at the same time it is a novel that chronicles a sweetly real love affair as it blossoms from its awkward, improbable beginnings. Mr. Shteyngart spent his earliest childhood in Leningrad, then moved with his family to the United States, and "Super Sad" reflects his dual heritage, combining the dark soulfulness of Russian literature with the antic inventiveness of postmodern American writing; the tenderness of the Chekhovian tradition with the hormonal high jinks of a Judd Apatow movie…It demonstrates a new emotional bandwidth and ratifies his emergence as one of his generation's most original and exhilarating writers…In recounting the story of Lenny and Eunice in his antic, supercaffeinated prose, Mr. Shteyngart gives us his most powerful and heartfelt novel yet — a novel that performs the delightful feat of mashing up an apocalyptic satire with a genuine supersad true love story."
—Michiko Kakutani, New York Times
 
"Gary Shteyngart's third novel, Super Sad True Love Story, had to be a total blast to write.
It's an homage to science fiction, George Orwell's 1984 in particular, with a satirical postmodern overlay of authorial wish fulfillment….The text consists of Lenny's diary entries and Eunice's e-mails to various friends and family. They both write with endearing, sometimes clumsy earnestness, and their intertwining narratives, for all the book's cheeky darkness, pose a superserious question: Can love and language save the world?"
—Elle
 
"Shteyngart makes trenchant, often hilarious, observations about a fading empire."
—O Magazine
 
"With Shteyngart's nutty knack for tangy language, it's as if Vladimir Nabokov rewrote 1984."
—People
 
"It's not easy to summarize Shteyngart; there's so much satirical gunpowder packed into every sentence that the effect gets lost in the short version. But basically, this is a love story [that is] ridiculously witty and painfully prescient, but more than either of those, it's romantic."
—Time (summer preview)
 
"Finally, a funny book about the financial crisis."
—Wall Street Journal
 
"[A] smart send-up of our info-overload age…
Love Story is funny, on-target, and ultimately sad as it captures the absurdity and anxiety of navigating an increasingly out-of-control world."
—Entertainment Weekly
 
"Exuberant and devastating… such an acidly funny, prescient book… It's a wildly funny book that hums with the sheer vibrancy of Shteyngart's prose, and that holds up a riotous, terrifying mirror to a corrupted American empire in decline."
—San Francisco Chronicle
 
"The satirist author of Absurdistan rewrites 1984 as a black comedy set in a near future where everything scary about multinational banks, media super-saturation, and American cultural devolution is amped up to 11 (and really funny)."
—Details
 
"It's a love story, and as super-sad as the title promises…Shteyngart is the Joseph Heller of the information age…That's the difference between Shteyngart and the average literary satirist (or even an above-average one, like Martin Amis): his warmth…A novel that's simultaneously so biting and so compassionate."
—Salon
 
"As illuminating, as gut-busting, and as purely entertaining as any piece of literature will be this year."
—GQ
 
"So I don't risk burying my recommendation where an inattentive reader might miss it, let me say right upfront: Read this book – it's great…Shteyngart's hilarious dystopian novel, Super Sad True Love Story, is also sly and compliant, but like all great comedies, it is erected inside a scaffolding of sorrow, as the title promises…Shteyngart is a droll Kafka -- not so enigmatic, perhaps, but just as inimitable, and much, much funnier. He has a genius for composing the perfect, concise, illuminating phrase…Shteyngart, without resorting to pyrotechnics or hyperbole, insinuates his readers into an original, engaging and frightening world, at once foreign and familiar. I loved this novel."
—Portland Oregonian
 
"Gary Shteyngart's dystopian novel deserves a place on the shelf beside 1984  and Brave New World….The surprising and brilliant third novel from Russian-American satirist Shteyngart is actually two love stories… Shteyngart writes with an obvious affection for America — at its most chilling, Super Sad True Love Story comes across as a cri de coeur from an author scared for his country. The biggest risk for any dystopian novel with a political edge is that it can easily become humorless or didactic; Shteyngart deftly avoids this trap by employing his disarming and absurd sense of humor (much of which is unprintable here). Combined with the near-future setting, the effect is a novel more immediate — and thus more frightening, at least for contemporary readers — than similarly themed books by Orwell, Huxley and Atwood."
—NPR, Books We Like
 
"This summer's literary crown prince."
—New York Observer
 
"Hilarious and unsettling… the man can write a stellar sentence."
—Dallas Morning News
 
"Gary Shteyngart has a wicked penchant for steering his hapless characters into absurd situations, then letting real-life global forces roll over them. But his wild, exuberant wit and deadly accurate satire have made the Russian émigré one of the most acclaimed, enjoyable — and unsettling — novelists working today…His imagination is either warped or prophetic; you choose. But his writing is brilliant. Somehow, amid all this, he creates vulnerable, sympathetic characters whose foibles and blunderings toward one another we recognize as universal: super sad and true."
—Seattle Times
 
"Threads of narrative and brilliant motifs accumulate with apparent effortlessness and the narrative tone remains matter-of-fact and understated. He has gained a lot of praise for his first two novels, and yes, he does remind me of Nikolai Gogol and Evelyn Waugh both at the same time…Super Sad True Love Story is about as amusing and harrowing a reflection upon the world we live in now and the direction we could be heading as you can hope to find."
—Jane Smiley, Philadelphia Inquirer
 
"Dystopic, mournfully funny…The classics of fiction-as-social-forecast – and the fact that Shteyngart's is one doesn't make it any less funny – share a crucial characteristic: depressing familiarity."
—Newsday
 
"A slit-your-wrist satire illuminated by the author's absurd wit…Shteyngart's most trenchant satire depicts the inane, hyper-sexualized culture that connects everybody even while destroying any actual community or intimacy. This may be the only time I've wanted to stand up on the subway and read passages of a book out loud."
—Washington Post
 
"A bipartisan satirist who makes us simultaneously laugh and wince at our monstrous vanities…Zaniness and tragedy are conjoined in his ambitious, uninhibited imagination. No subject is too serious to crack a joke about. But he is not being perverse or disrespectful; like all great satirists, he builds fun house mirrors that expose the distortions of contemporary reality…Shteyngart is one of the most powerful voices of his generation."
—Miami Herald
 
"Uproarious."
—Santa Cruz Sentinel
 
"A spectacularly clever near-future dystopian satire… What gives this novel its unusual richness is that undercurrent of sorrow."
—Slate
 
"This moving tale in futuristic New York is a fabulously sad romance… It's hilarious, and it's sad - a poignant moment that gets at the heart of both the girl and the society."
—St. Louis Post Dispatch
 
"These inventions are indicative of the book's pleasure, which is simply its effluence from a mind as smart, loony and darkly prophetic as Mr Shteyngart's. "I don't know how to read anymore," he said in his interview with Deborah Solomon. Thankfully his fans still do."
—The Economist, More Intelligent Life
 
"His satire is appallingly funny but never less than personal, a tour de force of ridiculous appropriation and conflation."
—Boston Globe
 
"An ingenious satire of America in decline: a nation obsessed with life extension and homeland security, betrayed by technology and utterly trivialized."
—L.A. Times summer preview
 
"Here's a big tip of the hat to Gary Shteyngart for having the nerve to write a novel-length staire…he's shrewd, observant, snarkily funny."
—Newsweek
 
"You think the country's a mess now? Just wait until you read about the unnerving near-future envisioned by the hilarious Gary Shteyngart in his satiric new novel Super Sad True Love Story, a 1984 for the cybertastic millennium….Super Sad True Love Story shows why Shteyngart was named one of New Yorker's trendy "20 Under 40" writers; he's a genius with parody."
—Miami Herald
 
"Not since mid-'70s Woody Allen has anyone cracked so wise and so well. Who but Shteyngart recognizes the twin importance of skillful oral sex and a currency pegged to the Chinese yuan? Nobody."
—Esquire
 
"Shteyngart evokes America in a digitized post-literate age in Super Sad True Love Story, an Orwell-on-acid vision of a very near future in which life is streamed rather than lived, but romance,in all its perilous, old-fashioned wonderment, endures."
—Vogue
 
"Pity Lenny Abramov, the sad and hilarious human being at the center of Super Sad True Love Story, Gary Shteyngart's hilarious and sad new novel…[an] all-too-plausible dystopia, where privacy of any sort is a thing of the past…both frightening and devastatingly funny."
—L.A. Times
 
"The sheer exhilaration of the writing in this book ... is itself a sort of answer to the flattened-out horrors of the world it depicts."
—New York Times Book Review
 
"Gary Shteyngart's Super Sad True Love Story tries to be many things—tragicomic 1984 update, poignant May-December romance per the title, heartfelt tribute to the nostalgic joys of plain ol' books—and succeeds at most of them. But primarily, it's the finest piece of anti-iPhone propaganda ever written, a cautionary tale full of distracted drones unwilling to tear themselves away from their little glowing screens long enough to make eye contact, let alone an actual lasting connection, with another human being. It's super sad 'cause it's true, but that also makes it hilarious."
—Village Voice
 
"Hilarious and unsettling."
—Fort Worth Star Telegram
 
"I can't remember the last time a book so often made me laugh out loud and scared the hell out of me - sometimes on the same page. But Gary Shteyngart's new novel, the aptly titled Super Sad True Love Story, accomplishes an even rarer feat: It's a slashing satire with a warm heart…Shteyngart makes it all disturbingly convincing. Both satire and speculative fiction tend to be chilly forms; he displays a mastery of them in Super Sad Love Story yet never lets the tragic, wholly human bond between its lovers seem less than real."
—St Petersburg Times
 
 
"Shteyngart's world, evoked in painstaking and ingenious detail, feels close enough to touch - a nightmare we've already started to live and from which we can't seem to wake up…Shteyngart has always been able to see the humor in a half-cocked world as it slides toward madness. But true to his Russian origins and this novel's title, there is something unbearably sad about even his broadest and most savage satire."
—Milwaukee Journal Sentinel
 
"No surprise that it's hilarious, but it's also as finger-waggingly disapproving a vision of the technologically addicted, oversexed, dumbed-down world we inhabit as I've ever read."
—The Forward
 
"The surprising and brilliant third novel from Russian-American satirist Shteyngart is actually two love stories — and while they're both, as promised, super sad, they're also incredibly (but very darkly) funny."
—NPR "Books We Like"
 
"if Gary Shteyngart is any indication, fiction will continue to be the place where authors ponder the survival of most everything else that matters…These inventions are indicative of the book's pleasure, which is simply its effluence from a mind as smart, loony and darkly prophetic as Mr Shteyngart's.
 
"[A] profane and dizzying satire, a dystopic vision of the future as convincing-and, in its way, as frightening as Cormac McCarthy's The Road. It's also a pointedly old-fashioned May-December love story. . . .  a heartbreaker worthy of its title, this is Shteyngart's best yet." 
—Publishers Weekly, starred review «
 
"Full-tilt and fulminating satirist Shteyngart (Absurdistan, 2006) is mordant, gleeful, and embracive as he funnels today's follies and atrocities into a devilishly hilarious, soul-shriveling, and all-too plausible vision of a ruthless and crass digital dystopia in which techno-addled humans are still humbled by love and death."
—Booklist, starred review «
 
"This cyber-apocalyptic vision of an American future seems eerily like the present, in a bleak comedy that is even more frightening than funny. Though Shteyngart received rave reviews for his first two novels (The Russian Debutante's Daughter, 2001; Absurdistan, 2006), those appear in retrospect to be trial runs for his third and darkest to date."
—Kirkus Reviews, starred review
Random House Trade Paperbacks, 9780812977868, 352pp.
Publication Date: May 3, 2011
About the Author
Gary Shteyngart was born in Leningrad in 1972 and came to the United States seven years later. His debut novel, The Russian Debutante's Handbook, won the Stephen Crane Award for First Fiction and the National Jewish Book Award for Fiction. His second novel, Absurdistan, was named one of the 10 Best Books of the Year by The New York Times Book Review, as well as a best book of the year by Time, The Washington Post Book World, the San Francisco Chronicle, the Chicago Tribune, and many other publications. He has been selected as one of Granta's Best Young American Novelists. His work has appeared in The New Yorker, Esquire, GQ, and Travel + Leisure and his books have been translated into more than twenty languages. He lives in New York City.
Coverage from NPR