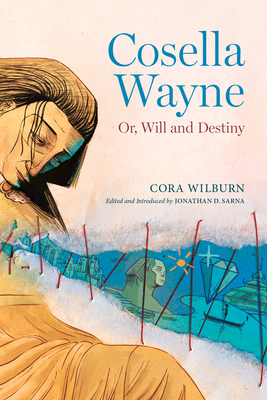 Cosella Wayne (Paperback)
Or, Will and Destiny (Jews and Judaism: History and Culture)
University Alabama Press, 9780817359560, 336pp.
Publication Date: October 22, 2019
Other Editions of This Title:
Hardcover (10/22/2019)
* Individual store prices may vary.
Description
The first novel written and published in English by an American Jewish woman
 
Published serially in the spiritualist journal Banner of Light in 1860, Cosella Wayne: Or, Will and Destiny is the first coming-of-age novel, written and published in English by an American Jewish woman, to depict Jews in the United States and transforms what we know about the history of early American Jewish literature. The novel never appeared in book form, went unmentioned in Jewish newspapers of the day, and studies of nineteenth-century American Jewish literature ignore it com­pletely. Yet the novel anticipates many central themes of American Jewish writing: intermar­riage, generational tension, family dysfunction, Jewish-Christian relations, immigration, poverty, the place of women in Jewish life, the nature of romantic love, and the tension between destiny and free will.
 
The narrative recounts a relationship be­tween an abusive Jewish father and the re­bellious daughter he molested as well as that daughter's struggle to find a place in the com­plex social fabric of nineteenth-century Amer­ica. It is also unique in portraying such themes as an unmarried Jewish woman's descent into poverty, her forlorn years as a starving or­phaned seamstress, her apostasy and return to Judaism, and her quest to be both Jewish and a spiritualist at one and the same time.
 
Jonathan Sarna, who introduces the volume, discovered Cosella Wayne while pursuing research at the Israel Institute for Advanced Studies in Jerusalem. This edition is supplemented with selections from Cora Wilburn's recently rediscovered diary, which are reprinted in the appendix. Together, these materials help to situate Cosella Wayne within the life and times of one of nineteenth-century American Jewry's least known and yet most prolific female authors.
 
About the Author
Cora Wilburn (1824–1906), born Henrietta Pulfermacher, emigrated from France to the United States under the name Henretty Jackson in 1848. Her novels, essays, and poems mostly appeared in rare spiritualist journals and Jewish periodicals.
 
Jonathan D. Sarna is the Joseph H. and Belle R. Braun Professor of American Jewish History at Brandeis University and directs its Schusterman Center for Israel Studies. He is also chief historian of the National Museum of American Jewish History. He is author or editor of more than thirty books on American Jewish history and life, including American Ju­daism: A History.
 
Praise For Cosella Wayne: Or, Will and Destiny (Jews and Judaism: History and Culture)…
"Once again Jonathan Sarna astonishes us. This time snippets of prose and poetry by an unknown nineteenth-century writer led him to discover Cora Wilburn, her diary, and her novel Cosella Wayne. Wilburn's musings on immigration, poverty, family dysfunction, religious doubt, and spiri­tual seeking, drawn from her own life, compel a rethinking of the dawn of American Jewish literature and its themes. Thanks to this eminent historian, Cora Wilburn, a woman banished from our cultural memory, reclaims her rightful place."
—Pamela S. Nadell, author of America's Jewish Women: A History from Colonial Times to Today
 

"Thanks to Jonathan Sarna's literary-historical detective work, readers now have access to the first novel by a Jewish American woman writer. Complex and gripping, Cora Wilburn's Cosella Wayne is a fascinating look at nineteenth-century women's relationships to various religious movements—most notably, Judaism and spiritualism. An important source for scholars of religion, transnational literature, and American women's writing, this edition is made more valuable by Sarna's informa­tive introduction and notes, as well as selections from Wilburn's diary."
—Lori Harrison-Kahan, editor of The Superwoman and Other Writ­ings by Miriam Michelson and author of The White Negress: Literature, Minstrelsy, and the Black-Jewish Imaginary
 

"Jonathan Sarna's edition of Cosella Wayne renders accessible to general readers—as well as to students and scholars of modern history, women's and gender studies, religion, and Jewish studies—the gripping tale of the global adventures and personal travails of its inimitable heroine, Cosella Wayne. Engrossing as a work of literature and enthralling as a window onto the life and world of its remarkable author, Cora Wilburn, Cosella Wayne is a family saga that grapples mightily with the nature of religious conversion, the implications of gender, the oppressiveness of poverty, and the destructiveness of child abuse. It paints intimate portraits of nineteenth-century Jewish and Spiritualist practices as well as of a cou­rageous young woman's search for truth, love, and belonging. This highly readable edition will be particularly welcome in university classrooms, where it will draw students deep into the fundamental questions that ani­mate a range of disciplines."
—Paola Tartakoff, Rutgers University