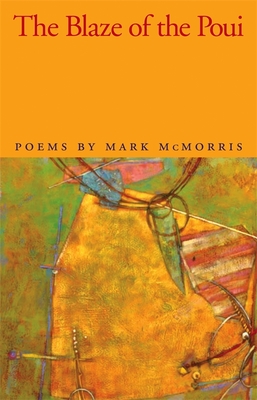 The Blaze of the Poui (Contemporary Poetry (Univ of Georgia Paperback)) (Paperback)
University of Georgia Press, 9780820325156, 88pp.
Publication Date: April 20, 2003
Description
The Blaze of the Poui unfolds a world as lush and rank as a rain forest, as alluring and lethal as a sea anemone. Mark McMorris writes of the Americas, the Caribbean, and other sites of conquest and colonization, mingling the personal and political, the present and past on pages filled with the language of parting, remembering, promise, and loss.
About the Author
Mark McMorris is author of "The Black Reeds" (Georgia) and other collections. He has published his poems in "New American Writing," "Callaloo," "Conjunctions," and other journals. McMorris is an assistant professor of English at Georgetown University.
Praise For The Blaze of the Poui (Contemporary Poetry (Univ of Georgia Paperback))…
"The punch is a stunning one, landing its blow with such finesse you are surprised you didn't see it coming. . . . McMorris credibly sounds the mature intonations of a late-career poet when he speaks of the smell of the world in its dotage coming to roost.' Poetic equilibrium of this order is a rare thing when managing such charged material, but in a young poet it is cause for small amazement."--Village Voice Literary Supplement

"Intermingling an erudite but folksy persona with a metrics that suggests 17th-century England, McMorris sifts and often lush, deceptively whole Caribbean landscape for the traces of a harsh English colonial past. . . . From all of these poems emerges a poetic voice that is at once deeply engaged in with an English poetic tradition, but not afraid to, through the tactics of postmodernism, to trouble the terms of its extended contract."--Publishers Weekly

"Questions about race, nation, and language have long been central to McMorris's work. And of all his published writings, none addresses these key questions with the unsettling power and clarity of his newest book, The Blaze of the Poui. As a collection of poems, The Blaze of the Poui pours a startling array of voices into an ongoing investigation of eros and exploration in the European and african settlement of the New World. . . . McMorris understands the erotic vibrancy and decay of language and identity as well as any contemporary writer; and he explores it with growing power and profundity in his poetry."--Chicago Review

"McMorris is a poet utterly devoted to the sensual beauty of language and he crafts lines dense and strong enough to bear the crashing forces of history and identity contained within them. McMorris brings many literary histories to his work: Caribbean, European, and American poetries all meet here. . . . When McMorris brings language, longing, and the physical world together, allowing diverse contemporary voices to rise up and carry his poems, his work is wrenching, lovely, and powerfully seductive."--Poetry Project
Advertisement