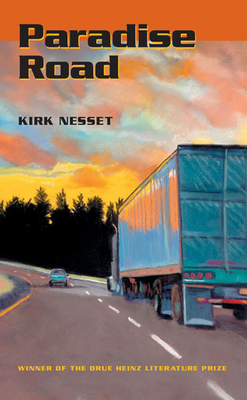 Paradise Road
Hardcover

* Individual store prices may vary.
Description
The stories in Kirk Nesset's Paradise Road vividly examine the various pitfalls, both physical and emotional, we encounter and suffer trying to find lasting meaning in love.  Stark and unsentimental, they feature the chiaroscuro of particular worlds and particular lives, infused with the yearning and muted desperation that comes after passion has bent us,  burned us, and cast us aside.  "Nothing comes and goes without a trace," muses the narrator of "The Prince of Perch Fishing," the collection's opening tale.  "In this world there are consequences for everything."  Such stories speak to the fleeting yet monumental moments of our lives, which catch us off guard, unveiling and unsettling us, each leaving its indelible mark.  The stories also offer paths, paved or unpaved, leading out of the ashes, out of the wilds of upheaval and betrayal and pain.  Story by story, Paradise Road guides us deeply into ourselves--into new kinds of awareness, if not transformation.
Praise For Paradise Road…
"What's most impressive about Nesset's fiction is his ability to explore how we don't know ourselves, or our intentions, not before we've done something, however heroic or awful, not even afterwards, and how it wouldn't make a difference even if we did."
--Barn Owl Review
"The figures and voices that appear in
Paradise Road
 are like ghosts from an ancient land that move toward their destinies with hope and defiance. Mr. Nesset conducts their journeys with a sure hand while making fiction of striking originality and beauty.
Paradise Road
may go through geography unfamiliar to some of us, but the route, once taken, is unforgettable."
--Hilary Masters
"Nessett displays his mastery of the short story form in twelve rich and well-developed stories. On the surface his stories appear to be simple tales about ordinary people, but the worlds he opens to us have several levels."
--Rain Taxi
"What makes these stories most pleasurable is Nesset's supple style, capable of bluntness and lyricism alike. In any mode, he hardly seems capable of writing an uninteresting sentence. . . . Nesset can bewitch you with one word. But he can also make 100 sing like a chorus."
—Pittsburgh City Paper
"A stunning collection. Nesset's style is distinct . . . His similes are original and often surprising."
—Erie Times-News
"Paradise Road delivers us, in a barbed and wiry prose, into the certainties of a future riding in hard and indifferent, a world brittle and chipped at the edges, no home at all for the soft-hearted or soft-minded.  Kirk Nesset works the mean and woeful precincts of the heart, his people gone whichaway with want, every sunrise revealing yet another chance to screw up, every midnight a welcome relief from misrule and mistake. Here's a book like gunfire down the block--spooky and unexpected and unforgettable--a book that grabs you by the scruff and shakes you silly with its wisdom and its odd and dangerous beauty."
—Lee K. Abbott
"Really good writers seem to have their own terrain, their own timing, their own off-key lullabies, and Kirk Nesset is certainly a good short story writer.  These stories are melodious when they need to be, jangle when we need to hear what's discordant.  They're about lives lived without a self-congratulatory champagne flute in sight, played against a background of shifting, uneasy, endlessly surprising ordinary life."
—Ann Beattie
University of Pittsburgh Press, 9780822943150, 152pp.
Publication Date: September 15, 2007
About the Author
Kirk Nesset is professor of English and creative writing at Allegheny College in Meadville, Pennsylvania. He is the author of Mr. Agreeable, the nonfiction study The Stories of Raymond Carver, and the poetry collection Saint X. He is the recipient of a Pushcart Prize and numerous grants from the Pennsylvania Council on the Arts. His stories, poems, and translations have appeared in the Paris Review, Ploughshares, the Southern Review, and the Kenyon Review, among others.
or
Not Currently Available for Direct Purchase