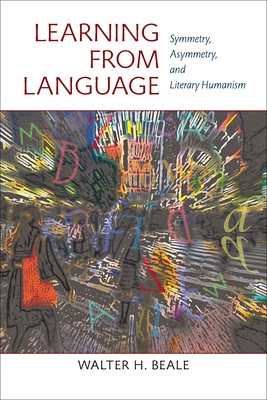 Learning from Language (Composition, Literacy, and Culture)
Paperback

* Individual store prices may vary.
Description
In Learning from Language, Walter H. Beale seeks to bring together the disciplines of linguistics, rhetoric, and literary studies through the concept of symmetry (how words mirror thought, society, and our vision of the world).
Citing thinkers from antiquity to the present, Beale provides an in-depth study of linguistic theory, development, and practice. He views the historic division between the schools of symmetry and asymmetry (a belief that language developed as a structure independent of human experience), as built into the character of language itself, and as an impediment to literary humanism (the combined study of language, rhetoric, and literature to improve the competence and character of the individual).
In his analysis, Beale outlines and critiques traditional claims of symmetry, then offers new avenues of approach to the subject. In doing so, he examines how important issues of human culture and consciousness have parallels in processes of language; how linguistic patterns relate to pervasive human problems; how language is an active participant in the expression, performance, and construction of reality; the concepts of designating versus naming; figurative language as a process of reenvisioning reality; and the linking of style to virtue by the ancients.
Beale concludes that both asymmetrical and symmetrical elements exist in language, each with their own relevance, and that they are complementary, rather than opposing philosophies. The basic intuitions of symmetry that relate language to life are powerful and important to all of English studies. Combined with a love for the workings, sounds, and structures of language, Beale says, an understanding of symmetry can help guide the pursuit of literary humanism.
 
Praise For Learning from Language (Composition, Literacy, and Culture)…
"A fresh history of English studies.
Learning from Language
explores central theories in the study of language, from rhetoric to discourse analysis to speech act performance. It provides a sense of how and why different questions on the nature of language have flowered into various intellectual traditions."
—Ellen Cushman, Michigan State University
"What we really have here is a love story. Beale loves language and its possibilities, and throughout this meticulously crafted analysis he conveys the rhetorician's passion for language and for the ways that it can both convey and originate thought. Highly recommended."
—Choice
"Sharp and interesting . . . makes a convincing case for an understanding of language as displaying elements of both symmetry and asymmetry, existing in a state of constant dialectical adjustment."
—Rain Taxi
University of Pittsburgh Press, 9780822960386, 240pp.
Publication Date: July 26, 2009
About the Author
Walter H. Beale is professor of English at the University of North Carolina at Greensboro. He is the author of A Pragmatic Theory of Rhetoric; Real Writing: Argumentation, Reflection, Information; and other studies in the fields of language and rhetoric.