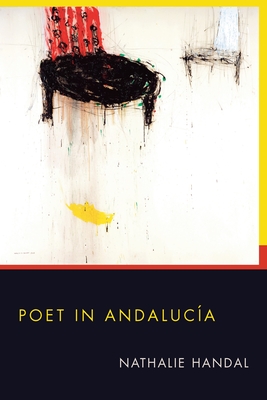 Poet in Andalucia (Pitt Poetry Series)
Paperback

* Individual store prices may vary.
Description
Frederico García lived in Manhattan from 1929 to 1930, and the poetry he wrote about the city, Poet in New York, was posthumously published in 1940. Eighty years after Lorca's sojourn to America, Nathalie Handal, a poet from New York, went to Spain to write Poet in Andalucía. Handal recreated Lorca's journey in reverse.
Praise For Poet in Andalucia (Pitt Poetry Series)…
"Poems of depth and weight, and the sorrowing song of longing and resolve."
—Alice Walker
"Nathalie Handal's brilliant new volume of poetry, Poet in Andalucía—about Spain, about the Middle East, about shared destinies and hopes—touches me deeply: it reminds us of what's inconsolable, of what's multiple, of what's irreducible, and what's simultaneous."
—Rattapallax Magazine
"If writing draws us closer to the Other, a voice so lucid as that of Nathalie Handal becomes a necessity. A perspective such as hers allows for interpreting what transforms, remains, and unites. Poet in Andalucía will be one of the most talked about poetry books of 2012 and beyond."
—Yolanda Castaño
"Love and Strange Horses . . . trembles with belonging (and longing)."
—New York Times
"Handal's newest collection is an ambitious work that looks back at Spanish poet Federico García Lorca's 1940 classic, Poet in New York. Handal says she recreates "Lorca's journey in reverse," by narrating her journey through Spain. Accompanied by comprehensive clarifying notes and a travelogue, Handal's collection resonates with a scholarly understanding of Spain's religious and linguistic influences."
—Publishers Weekly
"This cosmopolitan voice belongs to the human family, and it luxuriates in crossing necessary borders."
—Yusef Komunyakaa on Love and Strange Horses
"Her work is a brilliant elegance."
—Afaa Michael Weaver
"These poems make a beautiful reality for the poet, and for us, which is truer than mortar and brick. It's with startling force that Handal builds an architecture for the wanderer, and so makes true the belief that the life of the mind may be a waking dream but it's the place we finally live. In her displacement, Handal's inward tone is of grieving, but the consequence of writing about it, and writing with such fervor, is that cities are created where we can visit."
—Exemplars
University of Pittsburgh Press, 9780822961833, 144pp.
Publication Date: January 27, 2012
About the Author
Nathalie Handal is the author of numerous books, including Love and Strange Horses, a 2011 Gold Medal Independent Publisher Book Award winner, and coeditor of Language for a New Century: Contemporary Poetry from the Middle East, Asia & Beyond. Her work has appeared in many publications, namely, the Guardian, Virginia Quarterly Review, and Guernica Magazine. She is a Lannan Foundation Fellow, recipient of the Alejo Zuloaga Order in Literature 2011, the Pen Oakland Josephine Miles Book Award, and an Honored Finalist for the Gift of Freedom Award, among other honors.