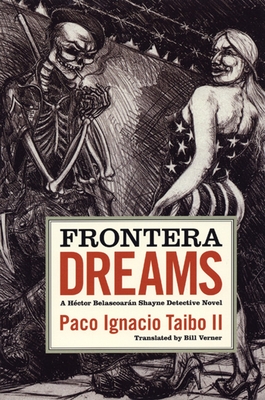 Frontera Dreams
A Hactor Belascoaran Shayne Detective Novel
Paperback

* Individual store prices may vary.
Description
The sweetheart of H ctor Balascor n Shayne's adolescence-the same one who has become a famous Mexican movie star-has disappeared into the magical reality of the U.S./Mexico Border. Her daughter hires the detective to find her and bring her home. He wanders la frontera, traveling the empty roads between Tijuana and Mexicali and Ju rez. Between nostalgia and reality. He falls in and out of love, he talks with the ghost of Pancho Villa, he asks lonely questions about the dirty business of narcotraficantes, and he listens closely to the story of the whores of Zacatecas. They, like his sweetheart, seem to have disappeared forever, their absence creating chaos back home. Balascor n Shayne, who at heart is an anarchist and incurable romantic, answers his own questions with two sticks of dynamite. Only then can he say goodbye to the beloved of his youth.
The H ctor Balascor n Shayne detective series are best sellers in Mexico, Latin America and Europe. In the U.S., Belascor n Shayne has a rabid and growing clan of aficionados, but to insure that the popularity of the series continues to grow, editor Bobby Byrd and translator William Verner add an Afterword for Frontera Dreams. Their essay includes a biography of the detective, a brief synopsis of the novels to date and an artist's sketch of him. The drawing portrays all the scars on his bullet-riddled body and details in which novel Paco Ignacio Taibo II inflicted these myriad wounds on his beleaguered hero.
Cinco Puntos Press - Cinco Puntos Press, 9780938317586, 120pp.
Publication Date: May 1, 2002