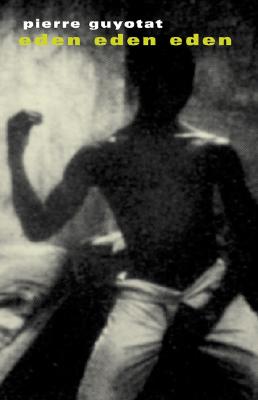 Eden Eden Eden (Paperback)
Solar Books, 9780979984747, 190pp.
Publication Date: May 1, 2009
* Individual store prices may vary.
Description
EDEN EDEN EDEN is Pierre Guyotat's legendary novel of atrocity and extreme obscenity, a classic of modern French literature taught on numerous University courses. Set in a polluted and apocalyptic zone of the Algerian desert in a time of civil warfare, this delirious, lacerating novel brings scenes of brutal carnage into intimate collision with relentless acts of prostitutional sex and humiliation. Eden, Eden, Eden first came out in France in 1971 with a preface by Michel Leiris, Roland Barthes and Philippe Sollers . The book was banned from being publicized or sold to under-18s. A petition of international support was signed (notably by Pier Paolo Pasolini, Jean-Paul Sartre, Pierre Boulez, Joseph Beuys, Pierre Dac, Jean Genet, Joseph Kessel, Maurice Blanchot, Max Ernst, Italo Calvino, Jacques Monod, Simone de Beauvoir, and Nathalie Sarraute). Franacois Mitterrand, and Georges Pompidou tried to get the ban lifted but failed. Claude Simon (who won the Nobel Prize in 1985) resigned from the jury of the Prix Medicis after the prize wasn't awarded to Eden, Eden, Eden Pierre Guyotat has been reviled and revered in equal measure in his native France; his literary progenitors are De Sade, Artaud, Bataille, and Genet. Like Artaud, he views the act of writing as a physical secretion, a feral expectoration of deadly poisons which are remorselessly savage and interrogative in their visceral impact upon the reader. As well as being a modern masterpiece of literary innovation, EDEN EDEN EDEN is also one of the most intense and graphic accounts of queer sex ever written, and will therefore cross into this market. With a preface by Roland Barthes, and an introduction by Stephen Barber.
or
Not Currently Available for Direct Purchase