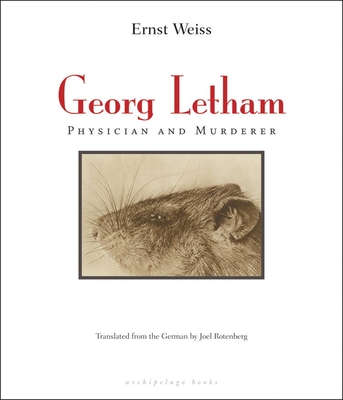 Georg Letham
Physician and Murderer
Paperback

* Individual store prices may vary.
Other Editions of This Title:
Paperback, German (2/8/2013)
Description
First published in 1931 and now appearing for the first time in English, Georg Letham: Physician and Murderer is a disquieting anatomy of a deviant mind in the tradition of Crime and Punishment. Letham, the treacherously unreliable narrator, is a depraved bacteriologist whose murder of his wife is, characteristically, both instinctual and premeditated. Convicted and exiled, he attempts to atone for his crimes through science, conceiving of the book we are reading as an empirical report on himself—whose ultimate purpose may be to substitute for a conscience. Yet Letham can neither understand nor master himself. His crimes are crimes of passion, and his passions remain more or less untouched by his reason—in fact they are constantly intruding on his "report," rigorous as it is intended to be. Both feverish and chilling, Georg Letham explores the limits of reason and the tensions between objectivity and subjectivity. Moving from an unnamed Central European city to arctic ice floes to a tropical island prison, this layered novel—with its often grotesquely comic tone and arresting images—invites us into the darkest chambers of the human psyche.
Praise For Georg Letham: Physician and Murderer…
I wonder why Weiss isn't better known here. A doctor as well as a writer, he knew about the body as well as the heart, and you can trust him when he describes how each can act on the other. —The Guardian

A compelling, creepy read. — Monica Carter, Three Percent

Ernst Weiss is in fact one of the few writers who may justly be compared to Franz Kafka . . . This is easily one of the most interesting books I have come across in years . . . One is filled with impressions, stimulated, gripped by images, characters, and episodes that are strangely real but also unforgettably fashioned. And, incidentally, it's all very Austrian. —Thomas Mann

What an extraordinary writer he is! —Franz Kafka

If one could write a book about the internal feelings of Hitler, Mussolini, Stalin, or any other man who brings nightmares to life – this would be it. —Zahar Laor, ManofLaBook.com

Vivid. . . . [With] the thrill of intellectual obsession. . . . Weiss's novels are remarkable for their ambitious conceits, stylistic variation, and unusual characters. . . . He uncovers the fear, apathy, longing and rage for which the now clichéd psychoanalytic terms were invented. —The Nation

Part medical detective story and part criminal confession. . . . the story addresses . . . justice, punishment, altruism, the fear of illness, the joy of recovery, the ecstasy of being alive, and the absolute worth of a single human life. . . . From a literary standpoint, readers can expect a sizeable reward. —Journal of the American Medical Association

What makes Georg Letham so fascinating is not that he is a murderer, but that he knows this and is still plagued with a compulsion to contribute to humanity . . . He kills for money, but when stripped of the need for money and forced to live, he becomes more of a human being. —Salonica
Archipelago, 9780980033038, 560pp.
Publication Date: January 29, 2010
About the Author
Ernst Weiss, born in 1882 in Bruunn, Moravia in the Austro-Hungarian Empire, was a trained physician. His years as a ship's doctor are apparent in much of the detail in Georg Letham. Weiss' work emerges from an expressionist background but belongs with the modernist classics.

Joel Rotenberg translated Chess Story and The Post-Office Girl by Stefan Zweig and Hugo von Hofmannsthal's The Lord Chandos Letter for the New York Review Books Classics series.